Argentine Defense Minister wants Almagro to leave OAS
Wednesday, August 11th 2021 - 09:28 UTC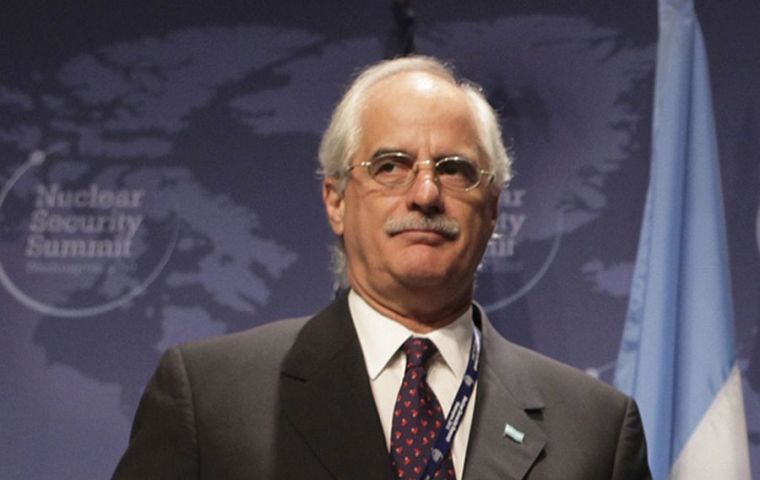 Argentina's newly-appointed Defense Minister and former Senator Jorge Taiana had sent a message to US President Joseph Biden stating that Organization of American States (OAS) Secretary-General Luis "Almagro must resign."
Taiana, who was sworn in Tuesday, had said at a Puebla Group summit on July 30 that "there will be no sustainable development if there is no regional integration. CELAC must be strengthened (...) and clearly it must have as a political objective the resignation due to misconduct and immorality of Mr. (Luis) Almagro as head of the OAS."
He had also pointed out that "there is no possible negotiation with an OAS led by Almagro and that must be made understood to the administration of President Biden. That is a point that should not have setbacks."
Taiana was a guerrilla combatant in the 1970s and spent time in prison between 1975 and 1982 for the bombing of a Buenos Aires café in which two people were killed and several others injured. Later in time he served as Foreign Minister under Presidents Néstor Kirchner (2003-2007) and Cristina Fernández de Kirchner (2007-2010). He became a Senator in 2019 as CFK vacated her seat to move up to the Vice Presidency.
Taiana is known for his involvement in the Puebla Group, a political forum made up of political parties in the region calling themselves progressives who understand that it is necessary to limit the influence of the US in Latin America.
"We as progressives have to have a political position in the face of the debates that are taking place in the world, on how multilateralism is rearmed and defended, how international law and how we avoid falling into simple polarizations that want to make us fall. We have to defend our autonomy, our own right and base integration."
Under the Uruguayan Almagro, the OAS has strongly condemned violations of human rights in Cuba, Venezuela and Nicaragua.
Argentine President Alberto Fernández had also participated in the same virtual meeting, during which he described the OAS "as a kind of gendarmerie squad to advance on popular governments."
A meeting last Friday between Fernández and US National Security Advisor Jake Sullivan was regarded as a sign of rapprochement towards the White House. But as soon as Sullivan left Buenos Aires, Fernández announced he had chosen Taiana to replace Agustín Rossi as Defense Minister.
In the world of Foreign Relations, Taiana is recognized as a defender of the Chinese regime. In an interview with Xinhua, Taiana underscored that the link between Argentina and China goes beyond the merely commercial: "We have a comprehensive strategic partnership."
"The achievements of the Communist Party of China, which turns 100, with the reconstruction, rebirth and progress of Chinese society in general, are inseparable," he said. And on other occasions, he did not blush when he confidently stated: "China is a rising power and the United States is a great power but in decline."
China has already set up a strategic base just 100 kilometers from Vaca Muerta in the province of Neuquén. These facilities are off limits to local authorities and that are surrounded by a halo of mystery about what really happens there. The arrival of a pro-Chinese lobbyist at the Ministry of Defense seems to be good news for the Asian giant.
Links between the Communist Party of China (CCP) and the Justicialist Party date back to the times when former Argentine President Juan Domingo Perón (1946-1955 / 1973-1974) exchanged letters with Chinese leader Mao Zedong, laying the "foundations for a feeling of brotherhood between the two political forces," Taiana told Xinhua.
Taiana's seat on the Senate is to be taken over by fierce CFK militant Juliana Di Tullio.