Argentina eases down on most COVID-19 restrictions, gradually reopens borders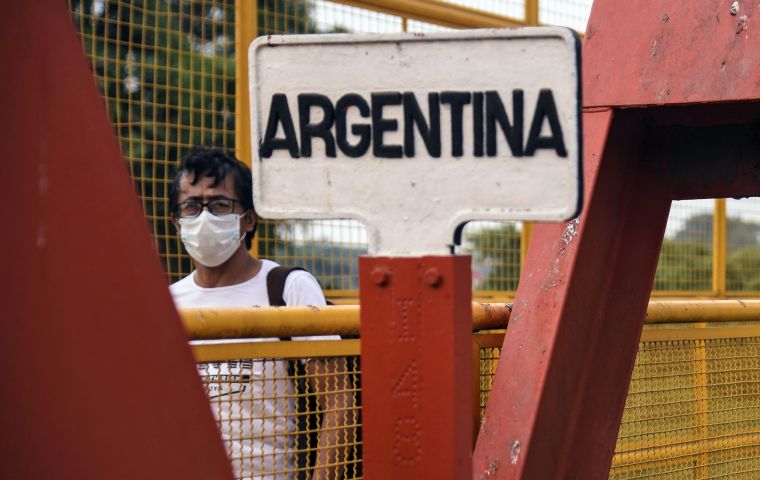 In what became Juan Manzur's first appearance as Cabinet Chief, the Government of Argentina Tuesday announced a gradual reopening of its borders as of October 1 as well as other measures lifting COVID-19 restrictions.
Health Minister Carla Vizzotti sat alongside Manzur as Argentines were briefed on the new measures. Manzur himself was health minister under President Cristina Fernández de Kirchner.
As per the new regulations, foreigners from neighbouring countries will be allowed to enter without the need for isolation. However, foreign tourism will not be allowed before November.
Meanwhile, effective Sept. 24, isolation of Argentine citizens and foreign residents returning to the country for business reasons will be lifted, provided a series of requirements are met, which include a complete COVID-19 vaccination scheme 14 days before entering the Argentine territory, in addition to a negative PCR test from 72 hours before travelling or an antigen test at the point of entry.
In addition, a PCR test is to be required between five to seven days after arrival. On the other hand, unvaccinated travellers, including children, must quarantine, in addition to the antigen test upon entry and a PCR test on day seven.
Once 50% of the population is fully immunized, tests upon arrival will be maintained only for unvaccinated travellers, it was announced.

Among other measures, wearing masks in outdoor settings will no longer be required, except in the presence of other people. Social gatherings are henceforth unrestricted in several attendants provided all other sanitary prevention measures such as social distancing and ventilation are complied with.
There are no more caps regarding restaurants, places of worship and recreational and social indoor activities, while group trips of senior citizens and graduating students are back to prepandemic conditions provided the recommended protocols are followed.
The use of face masks continues to be mandatory in indoor settings (classrooms, cinemas, theatres, work environments, public transport, shows and mass events) and outdoors among crowds.
Nightclubs may reopen with a 50% capacity but only for people fully vaccinated 14 days before the event or those with a negative PCR or Antigen test from within 48 hours before the event.
Special protocols are to be enforced for 15th birthday parties or children under 17 years while vaccination in adolescents progresses.

Football matches are also to allow crowds as of October.
The Government of Alberto Fernández is believed to have announced most of these measures in an attempt to counter people's animosity towards the ruling party following Sept. 12's loss at the Mandatory, Simultaneous and Open Primary (PASO) elections.
Many social media users have expressed fears that what the government seeks is a new outbreak of COVID-19 which would lead to the cancellation of the Nov. 14 mid-term elections.