Argentina declares Maradona's childhood house as a 'National Historic Site'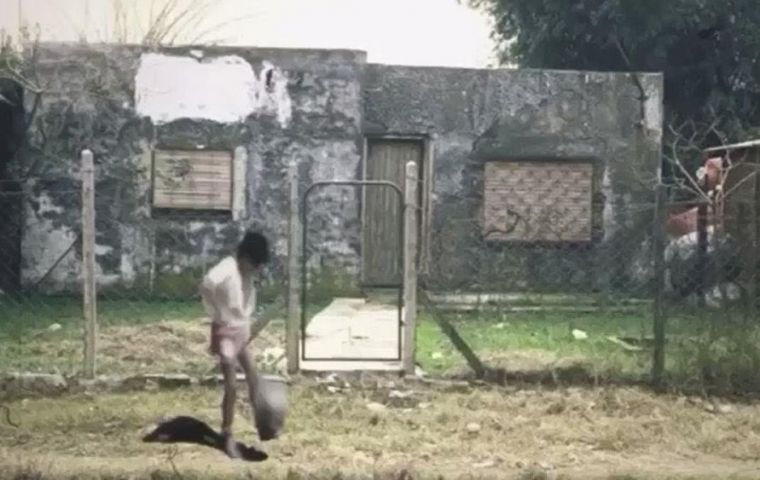 Argentina authorities have declared the house in the low-income Buenos Aires neighborhood of Villa Fiorito where football legend Diego Armando Maradona spent his childhood a National Historic Site, it was announced learned Tuesday.
President Alberto Fernández's decree published in the Official Gazette clears the way for the humble house with a barbed-wire gate and a dirt patio to be now protected after decades of neglect. Although how that will be implemented remains to be seen, plans to set up a museum were also mentioned.
The presiudential decision came in responde to a request from the National Commission of Monuments, Places and Historical Assets of the Culture Ministry.
The decree details that the house has a dirt patio with a barbed-wire door at its entrance, a dining room and two bedrooms. The house is located around the corner from the Club Social y Deportivo Estrellas Unidas, where Maradona started playing football and which features the training site of the Estrella Roja team, which was managed by Don Diego (Maradona's father).
The house meant for the star throughout his life "fidelity to his origins and the deep ties that united him with his family," the official doicument points out as it highlights Maradona's enormous influence in Argentine popular culture "which transcends his sporting merits and is constituted by the light of his recent death as one of the most recognizable symbols of our identity."
The Monuments Commission explained the decision involves turning "an area of material existence constituted by a rural or urban space, or determined by a particular geographical point where transcendent events of a historical, artistic, institutional or ethical-spiritual nature originated or occurred" and includes sites of archaeological importance with valuable meaning to the cultural identity of the nation.
Hence, both in these cases and in that of Maradona's house "its preservation and physical presence, including its surroundings, is intended to transmit and affirm the historical values that are embodied in that property."
The possibility of turning the house into a museum was also discussed, so that the humble residence becomes a place where items, images, objects and memories pertaining to Maradona's childhood can be put on display.
The last time Diego Maradona went to Villa Fiorito was on December 2, 2010, when he went together with Cristina Fernández de Kirchner for an official ceremony marking the opening of a Prompt Attention (health care) Unit.