Argentine health ministers support national gov't's decision to vaccinate children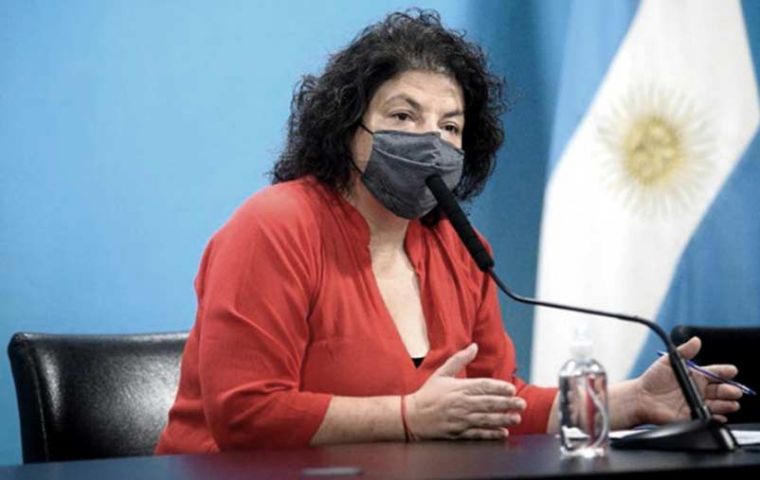 Health Ministers of jurisdictions other than the federal government have lined up together behind their national colleague Carla Vizzotti after the latter was accused of lying when she recommended vaccinating children aged 3 to 11 with Sinopharm.
Vizzotti had claimed the drug was reliable because it had beed tested on 500 million Chinese kids.
But it was not until last week that Sinopharm started being used in China for that age group, after almost 2.6 million Argentine boys and girls aged 3 to 11 had already received at least the first dose.
Despite the controversy, health ministers grouped under COFESA supported Vizzotti and advised parents to keep up vaccinating their children.
"The ministers reaffirmed the joint decision-making process that led to the use of the Sinopharm vaccine in the child population, based on the recommendation of ANMAT," the national government said through a statement.
The statement went on: "The ministers expressed their total confidence in the national regulatory authority, who recommended the extension in age after evaluating the phase 1 and 2 clinical trials published by The Lancet and analyzing the information from the progress of the phase 3 bridge study taking place in the United Arab Emirates."
Sinopharm vaccination of children between the ages of 3 and 11: the controversy that engulfed the Government in recent days
Before vaccinating children, the Argentine Society of Pediatrics (SAP) demanded to see documentation support the Government's plans.
Opposition lawmakers have announced they would summon Vizzotti before Congress.
The COFESA ministers also highlighted the importance of vaccinating the youngest since, according to official data, from the predominant circulation of the Delta variant, an increase in cases was observed in people under 18 years of age.