Chile's first transgender Deputy-elect says LGBT community afraid of Kast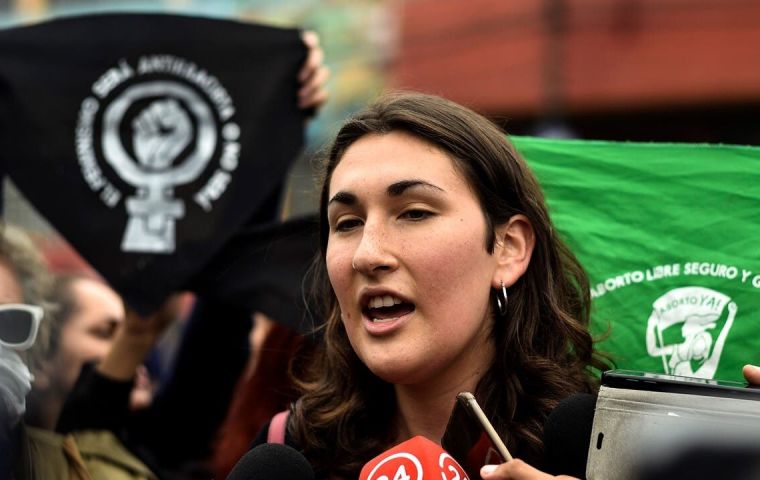 Emilia Schneider Sunday became Chile's first-ever transgender person elected to the national Congress. At age 25, she admitted the LGTBI community was afraid of what may happen if far-right candidate José Antonio Kast wins Dec. 19's presidential runoff.
According to Schneider, hate crimes would increase under such a government, "because discriminatory speeches find validation," something she considers unthinkable under her political movement, which supports far-left candidate Gabriel Boric to reach La Moneda.
Schneider is to take her oath of office next March with the idea of advancing an agenda which "seeks to expand rights in a stable and dialoguing manner," while others seek "to go back on some issues such as the Gender Identity Law (which has allowed for three years to change the registration of sex and name) or in abortion in three causes (which was approved in 2017)."
"Today the security, dignity and integrity of the rights of the LGTBI community and women are at stake," argued Schneider, who has already made history by becoming the first transgender president of the powerful Federation of Students of the University of Chile (FECH) in 2019, a year in which she took to the streets with thousands of other young people seeking profound changes during the October social uprising.
Schneider also explained last Sunday was a day of mixed feelings, because while the LGTBI community made history by electing the first trans parliamentarian, "a neo-fascist alternative and ultraconservative" government appeared as a likely possibility for the near future.
"The far-right seeks fear to prevail, but we have to make hope prevail, the same one that led us to vote for a new Constitution (in 2020) and the one that has prevailed in this last decade of mobilizations," Schneider stressed.
Nevertheless, Chile is looking at a different future after none of the three most voted presidential candidates belonged to the traditional political groups which have ruled since the return to democratic rule. "That is very revealing. Chile does not want to look to the past, but it is not yet clear what the future is with two such different alternatives," said Schneider who envisions a labour law that includes a quota for trans workers as one of her first goals in Congress.