Brazil: Bolsonaro insists his daughter will not be jabbed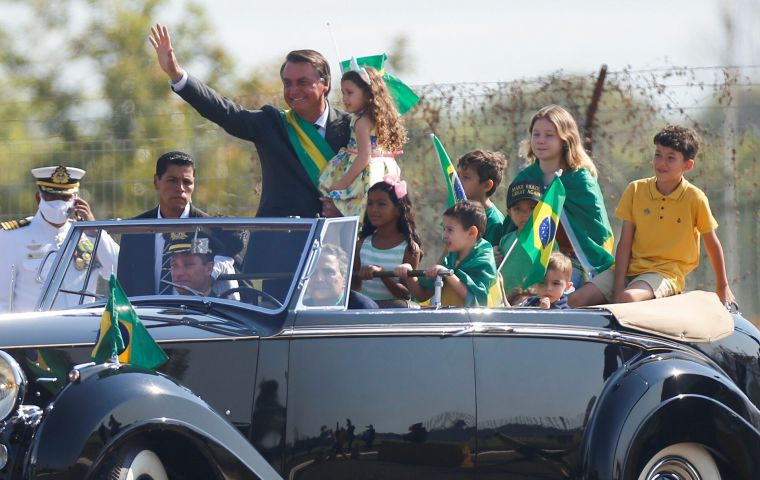 Brazil's President Jair Bolsonaro Monday insisted his 11-year-old daughter will not be taking any COVID-19 vaccine.
"I hope there is no interference by the law, I hope so, because my daughter is not going to be vaccinated. Let it be clear. She is 11 years old," the Brazilian leader said when he arrived at San Francisco do Sul, in the southern state of Santa Catarina where the family plans to spend New Year's Eve.
Bolsonaro himself has not been vaccinated against COVID-19 and was even banned from entering restaurants in New York City when attending a United Nations event, due to which he was forced to eat pizza with his entourage on the sidewalks of The Big Apple.
Vaccination for children aged 5 to 11 has been endorsed by Brazil's National Health Surveillance Agency (Anvisa) on Dec. 16. Children are given the Pfizer drug. Despite Anvisa's decision, the federal Health Ministry has been reluctant to vaccinate children and is not expected to make a final decision on the matter until January 2022. Health Minister Marcelo Queiroga has insisted "there is no rush."
Queiroga has been quoted as saying that the death of minors due to COVID-19 was within "acceptable levels," which has sparked anger among medical circles where some 2,500 deaths of children under 11 years of age due to the virus have been recorded.
The Health Ministry reportedly plans to recommend the vaccine for minors, without making it mandatory, on the condition that it is prescribed by a licensed physician and is consented to by the child's parents.
This stance has prompted the Supreme Federal Court (STF)'s reaction last Friday, giving Queiroga five days to explain those requirements.
So far, the national immunization plan only approves vaccination against COVID for people over 12 years of age. Since 67% of Brazil's 213 million inhabitants have taken a full vaccination scheme, deaths and infections have dropped considerably. Over 618,000 people have died in Brazil of COVID-19 and 22.2 million people have been infected with the virus.
The Bolsonaro administration had been reluctant to demand a vaccination card to foreign arriving travelers, but it has been placed in force through an STF decision.