Paraguayan Gov't honors IACHR ruling favoring indigenous peoples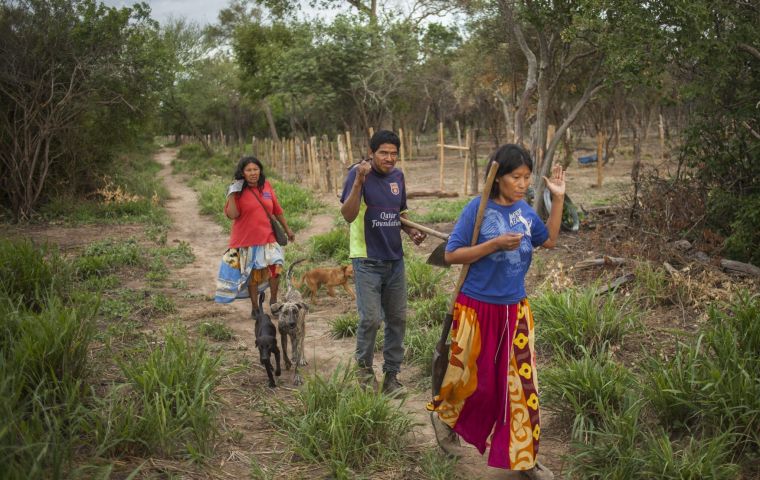 Paraguayan President Mario Abdo Benítez's Government Monday gave real-estate ownership (occupation) certificates to indigenous peoples plus a monetary compensation in accordance with rulings from the Inter-American Court of Human Rights.
During the ceremony at the Government Palace in Asunción, Paraguayan Indigenous Institute (INDI)'s Edgar Olmedo pointed out that indigenous peoples maintain a close relationship with the land, since it constitutes the fundamental basis of their cultures, their integrity and their economic survival.
He also stressed that such a relationship with the land went beyond possession and production of food and goods: it also constituted a spiritual element that they must fully enjoy to preserve their cultural legacy and pass it on to future generations, as mandated by the IAHRC.
Olmedo highlighted the current government's National Plan for Indigenous Peoples, to guarantee the restitution, expansion, and regularization of the possession of ancestral lands and of collective occupation of indigenous peoples in line with Constitutional provisions and in close collaboration with community authorities.
"Today the State is paying off a historical debt that it owed to these indigenous communities in the Western Region," Olmedo also said regarding the disbursement of GY $ 8.387 billion (US $ 1.235 million) to the Yakye Axa, Sawhoyamaxa, Xamok Kasek and Kelyenmagatema communities.
Olmedo also highlighted the increase in indigenous youths who attended local universities. In 2020 there were 400 college students of native background while in 2021 there were 600.
"Many of them are already graduating and becoming part of the professional world. They study various disciplines, medicine, law, nursing, agronomy, business administration, teaching, architecture, etc. It is planned to increase the number of young people in the program to 800," he said.
Likewise, the INDI has been involved in bringing access to drinking water to 3,805 in 50 indigenous communities. "The National Plan for Indigenous Peoples is the greatest legacy left by this Government and is constituted as a State policy that must govern the next administrations, adjusted to the 2030 Sustainable Development Goals," Olmedo underscored.
He also underlined 94 production projects for communities involving agriculture and livestock to improve the production capacity of families, thus promoting food security and access of some more advanced communities to the market to increase their income.
The items fostered by this program include small-scale livestock (poultry and sheep), beekeeping to modernize honey production, distribution of tools for farming, and cattle for meat and milk production. A total of 7,032 families have benefited from these initiatives. Another 695 families were favored by nine infrastructure projects that include community buildings, sheds, schools, electrification, and housing.
"It is imperative to strengthen the INDI for the new challenges that arise to improve the service to indigenous peoples," Olmedo explained.
"For this, the first Institutional Strategic Plan has been drawn up, which points the way to change from the welfare management model to a more planned model, so that the institution can implement state policies that transcend governments and achieve the good living of the Indigenous Peoples of Paraguay," he went on.
(Source: IP)