Uruguay consolidates climate change policy, minister says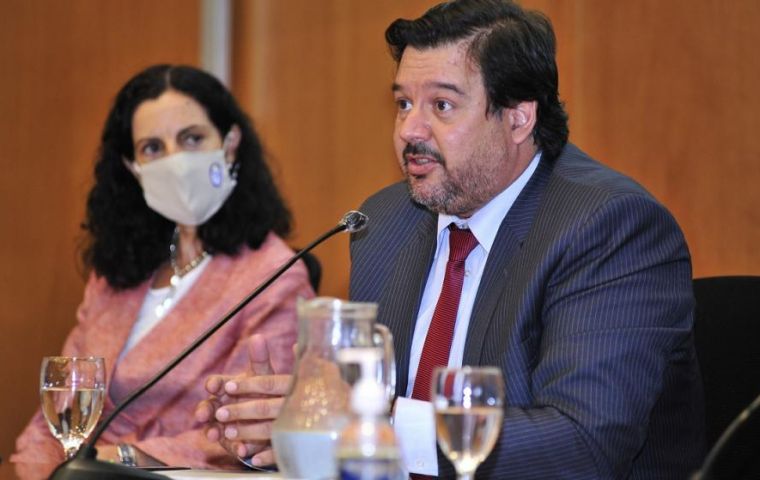 Uruguay's Environment Minister Adrián Peña Monday forecast that by 2035 ANCAP's La Teja refinery will be closed and vehicles will be 100% zero emissions, as the country advances towards its carbon-neutral goals for 2050
"We are consolidating a national policy on climate change," said Peña during the launching ceremony of Uruguay's Long-Term Climate Strategy. "The strategy that we present today has a central component on the adaptation issue. How people, especially the most vulnerable, manage to generate capacities to adapt to what is coming," said Peña during the announcement at Montevideo's Executive Tower.
The minister also foresaw "increasingly greater" extreme events in the near future. He spoke of increased winds, increased rains, cold waves, and heat waves, not as a consequence of what Uruguay does, but of what developed countries do. Uruguay accounts for 0.04% of the world's emissions, Peña explained.
"Uruguay, because of where it is, because it is an open economy because it has an economic base in agricultural matters, is a country which is tremendously exposed and tremendously vulnerable to climate change. That is why it demands international support to which the big companies are committed," he added.
"The great countries of the world have promised to help developing countries and that aid is not coming, it is very important and Uruguay is demanding it," he went on.
Peña also conditioned Uruguay's achieving its 2050 goals to a "series of decisions" regarding the energy sector and the productive sector. Part of it will be attained, though, through the transition towards electricity-powered cars hydrogen used for cargo and transport vehicles. With that alone, Uruguay will reduce nearly 50% of emissions from the energy sector, Peña explained.
"We are thinking that by the year 2035 all transport vehicles will be zero emissions," the minister said. He also believed that by that year the La Teja oil refinery will be closed down due to the transition towards other sources of energy.
Alongside Peña were Economy Minister Azucena Arbeleche, Livestock Minister Fernando Mattos, and Industry Minister Omar Paganini in addition to other officials.