Stamps release on the centenary of the Death of Sir Ernest Shackleton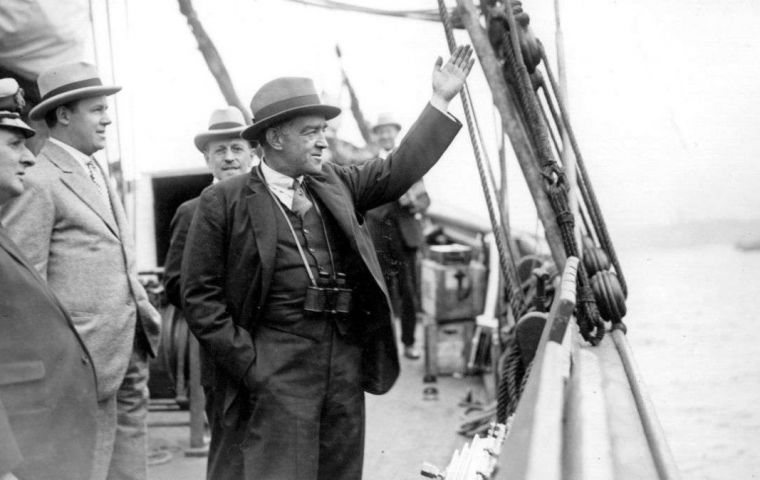 To mark 100 years since the death of Sir Ernest Shackleton, South Georgia & the South Sandwich Islands, the British Antarctic Territory and the Falkland Islands, have joined together to release a series of stamps celebrating his life and achievements.
A brief history of 'The Boss', was published in the South Georgia Newsletter with the contribution of Jayne Pierce, from the South Georgia Museum.
Shackleton rose to fame in 1915 when his vessel, the Endurance, became trapped in pack ice and sank. Against all the odds, Shackleton succeeded in getting all his men back to safety, a tale of resolve and selfless leadership that is celebrated as one of the greatest stories of human endeavour.
Shackleton led three major expeditions during what is now known as the Heroic Age of Antarctic Exploration. His first journey south was in 1901, on the Antarctic expedition ship Discovery. Led by British naval officer Robert Falcon Scott, Shackleton and Edward Wilson trekked towards the pursuit for the South Pole in extremely difficult conditions. They got closer to the Pole than anyone previously.
In 1908, Shackleton returned to the Antarctic as the leader of his own expedition, on the ship Nimrod. They made many important scientific and geographical discoveries and set a new record by getting even closer to the South Pole. He was knighted on his return to Britain. The race for the South Pole ended in 1911 with Amundsen's conquest and in 1914 Shackleton made his third, now well-known expedition, with the shipEndurance.
In 1921, Shackleton returned to the sub-Antarctic on the Shackleton-Rowett Antarctic Expedition. More commonly known as the Quest expedition, it was to be Shackleton's fourth and final expedition. Large crowds gathered as the ship, Quest, left St Katherine Docks in London on 17 September 1921, with a crew comprising eight shipmates from the famous Endurance Expedition, keen to return to southern waters.
After arriving at the quiet waters of King Edward Cove in South Georgia, Shackleton unexpectedly died in the early hours of the morning on the 5th January 1922.
His final diary entry reads: 'A wonderful evening. In the darkening twilight I saw a lone star hover, gem-like above the bay.'
Shackleton was buried on the 5 of March at the whaling station, Grytviken, a ceremony attended by the managers of the five stations on South Georgia and a hundred whalers and seamen.
The story of the Endurance Expedition has become legendary. His decision-making and guidance under pressure is celebrated in books, management courses, films, television and memorials. A portrait of him by Reginald Grenville Eves hangs in the National Portrait Gallery, London. Statues and busts of Shackleton can be seen outside of the Royal Geographical Society, London, at Athy, his birthplace in Ireland, and in the Church at Grytviken, South Georgia where he died.