Brazil's Electoral Court CJ says Dilma's impeachment was a coup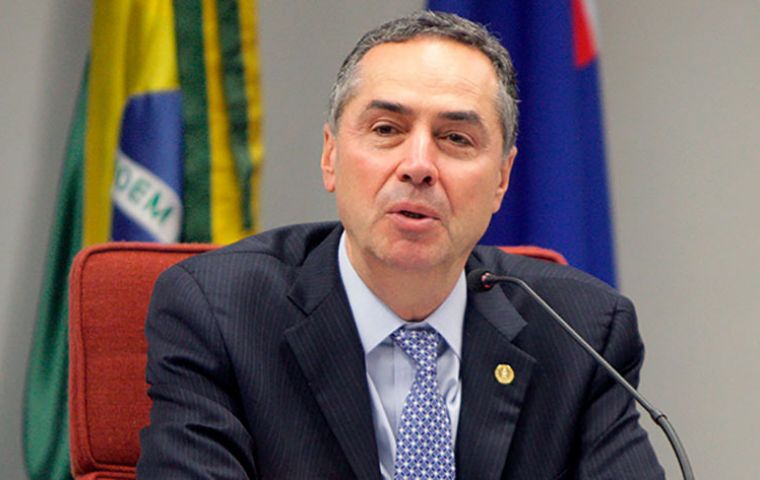 Brazilian magistrate Luiz Roberto Barroso, who is at the same time a member of the Superior Federal Court (STF) and the Chief Justice at the Superior Electoral Court (TSE), said the impeachment of former President Dilma Rousseff was a coup d'état.
According to Barroso, Rousseff was removed from office due to lack of political support among lawmakers.
Rousseff was head of state between 2011 and 2016, when she was dismissed Aug. 31, after six days of deliberations at the Senate.
Barroso Thursday said the real reason behind Rousseff's sacking was lack of political support and not the violation of budgetary rules which rightwing promoters of her impeachment had claimed.
Barroso insisted the alleged corruption was not real and that complaints in this regard were nothing but a legal formality on which to base the coup d'état. After Rouseff was handed the thumbs down, her successor -Michel Temer- promoted a neoliberal agenda and his presidency was riddled with real cases of corruption.
The judge's statemets were published by the Brazilian Center for International Relations (Cebri), while fragments of his speech were also printed by local media. The full text, however, has not come to light.
The magistrate said it was ironical that Rousseff was impeached for corruption when compared with what happened during other presidencies, Barroso highlighted.
According to Brazilian media, a parliamentary coup was carried out and it was subsequently validated by the TSF's actions or lack thereof.
In July 2021, Barroso had already said he believed "there should be no reasonable doubt that she (Dilma) was not dismissed for crimes of responsibility or corruption, but that she was dismissed for loss of political support. Especially since removing her for corruption after what followed would be an irony of history."