Bolivia signs judicial protocol with UN mission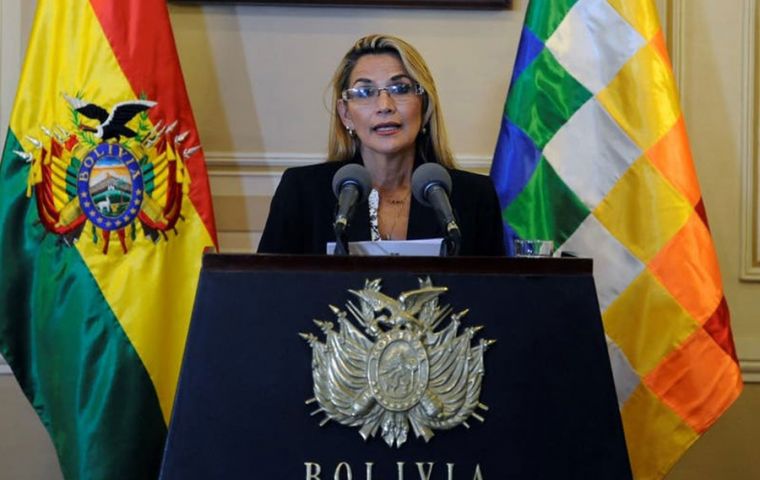 Bolivian authorities and the Office of the United Nations High Commissioner for Human Rights Monday signed a "protocol for the observation of judicial processes," which is also to apply to the cases against former president Jeanine Áñez, it was announced.
"There are judicial procedures that are very important for the development of our democracy, and we want to be sure that due process and fundamental human rights are being complied with," Justice Minister Iván Lima explained during a press conference.
The document provides for a UN mission to follow up on cases of crimes against humanity such as those linked to the socio-political crisis of 2019-2020; cases against members of the Judiciary and the Electoral Court; Entities of Constitutional creation; the Executive Branch; femicides, gender-based violence and cases involving the LGBTIQ+ population and cases with a serious impact on the respect, protection and promotion of human rights.
Lima also said that with the signing of the protocol there will be "a document that allows us to regulate everything that is going to be observations of all the judicial processes that exist in the country."
The document was signed by Lima on behalf of the Bolivian Government and Antonio Menéndez de Zubillaga, head of the Technical Mission of the Office of the United Nations High Commissioner for Human Rights.
The protocol is the result of a visit to the country by Special Rapporteur for the Independence of Judges and Lawyers Diego García-Sayán, who rounded up his trip Monday and took all the data he could collect to the UN headquarters in Geneva, including many complaints regarding political interference in the country's judiciary in addition to claims from dozens of relatives of femicide victims.
García-Sayán's report is due before the UN Human Rights Council in June, after García Sayán himself chose to shorten the 2023 deadline, it was reported.
In recent cases, criminals convicted of femicide and rape have been released in exchange for money and "a bottle of whiskey," according to media reports.