Colombia pulls ambassador from Managua following Ortega's berating remarks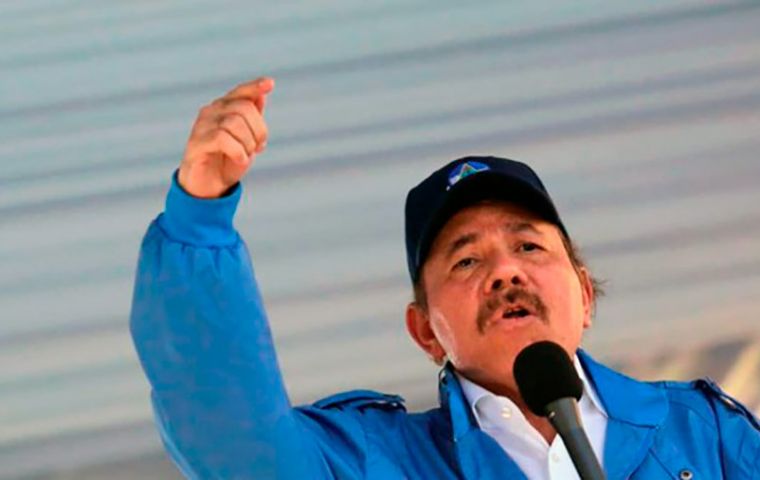 The Government of President Iván Duque Wednesday pulled its Ambassador from Managua after Nicaraguan leader Daniel Ortega said Colombia was a "narco-state" where social leaders were murdered daily.
Ambassador Alfredo Rangel was summoned back to Bogotá, while Nicaragua's Foreign Ministry received a note of protest rejecting Ortega's statements. The document also claimed that freedom and democracy were respected in Colombia, which has been a victim of drug trafficking.
"Faced with statements by Daniel Ortega of Nicaragua, against the Colombian State and the country, we ordered Ambassador Alfredo Rangel to present a note of protest forcefully rejecting this new offense to the honor of our Nation and we ask you to return to the country immediately," Colombia's Foreign Ministry explained on social media.
In addition to being victims of drug trafficking, Colombia "has suffered from threats to national security, fueled by money from this illicit activity, which unfortunately is supported by dictatorships in the region."
Ortega made his remarks Feb. 17 during a graduation ceremony for cadets of the National Police, where he blamed Duque for the situation the nation his country is going through.
"Countries like Colombia, where they have rulers who dare to talk about human rights, talk about human rights, and want to teach us Nicaraguans about human rights," said Ortega.
Ortega insisted drug trafficking could become relevant in the economy of some Latin American and Caribbean countries, among which he highlighted Colombia. "That is a narco-state, where crimes are impressive."
The Colombian Government also replied Nicaragua's democracy had "the size of its dictator" and asked the international community to apply sanctions on Ortega to prevent further human rights violations.
The Foreign Ministry also said the Nicaraguan president's statements were to "distract the attention of an international community that vehemently rejects the new dictatorship that is installed in the Central American country" and stressed that, "the international community is well aware that those who have openly opposed the regime, during the last year, have ended up in jail for the sole fact of wanting to present themselves as a legitimate and democratic option."
Colombian authorities thus insisted power in Nicaragua was "in the hands of a regime that does not have legitimacy," especially because of the aforementioned human rights violations.
Nicaragua is currently going through a political and social crisis since April 2018, which has worsened after the Nov. 7 elections in which Ortega was re-elected for a fifth term and fourth in a row, with most political rivals either in jail or in exile.