Chinese scientists announce vax good both against SARS-Cov-2 and H7N9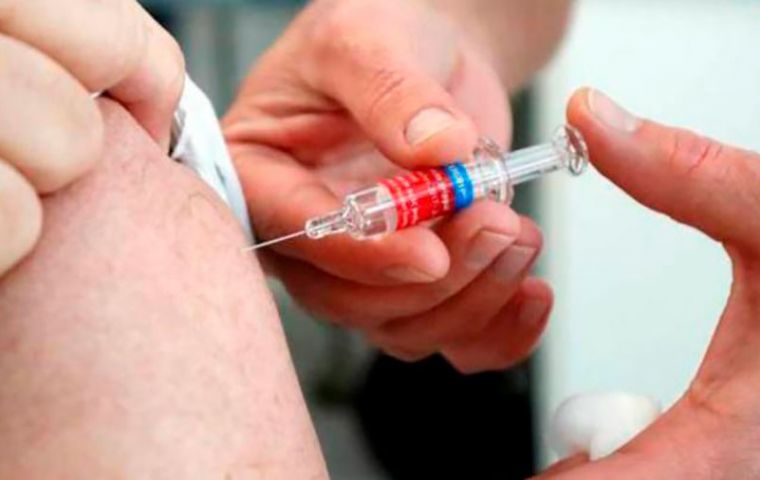 Chinese researchers have announced they have developed a single vaccine against coronavirus and influenza, which has been tested successfully on mice, it was reported Monday.
Scientists from the Shanghai-based Fudan University launched their findings in a study published in the Journal of Virology, saying they designed an immunogen by fusing the SARS-CoV-2 receptor-binding domain to the conserved stalk of H7N9 hemagglutinin and expressed it using a chimpanzee adenovirus vector.
When tested on mice, the constructed vaccine, named AdC68-CoV/Flu, effectively induced both SARS-CoV-2-targeting antibodies and anti-influenza antibodies, providing protection from SARS-CoV-2 (including its emerging variants) and H7N9 infection, according to the study.
H7N9 is a bird flu strain first reported to have infected humans in China in March 2013, and it is most likely to cause an epidemic in winter and spring. According to a recent study published last month by The Lancet, the H7N9 virus is transmitted to humans by chickens in poultry markets and there is no evidence of transmission from person to person. The H7N9 virus is said to have infected at least 108 people, 22 of whom eventually died.
Scientists from the Universities of Zhejiang and Hong Kong have written in The Lancet that the virus was passed on to humans in a fresh food market. To determine whether the virus was being transmitted from birds to humans, the researchers collected stool samples from 20 chickens, four quails, five pigeons, and 57 ducks, all from poultry markets that the patients had visited. Two of the five pigeons (40%) and four of the 20 chickens (20%) tested positive for the presence of H7N9, but the virus was not found in any of the ducks and quails tested.
After analyzing the genetic makeup of the virus taken from one of the patients, which they compared with the analysis of the virus taken from one of the chickens, the researchers concluded that the similarities between the two suggest that H7N9 was transmitted sporadically from birds to humans. "This is the first time that transmission from birds to humans of the H7N9 virus has been definitively proven", writes the Lancet.
Unlike other types of avian influenza, in the case of H7N9, there was no increase in bird deaths before the onset of infections in humans.
Scientists also monitored people, including relatives and health-care providers, who had been in contact with H7N9 patients, and none of them had developed any symptoms, which suggests the virus is not transmitted among humans. However, genetic analysis shows that the virus has acquired some characteristics that specifically adapt it to the infection of mammals, so if H7N9 continues to adapt, it could lead to infections with less severe symptoms and more efficient transmission. between humans, according to the scientists.