US General Laura Richardson makes Buenos Aires stop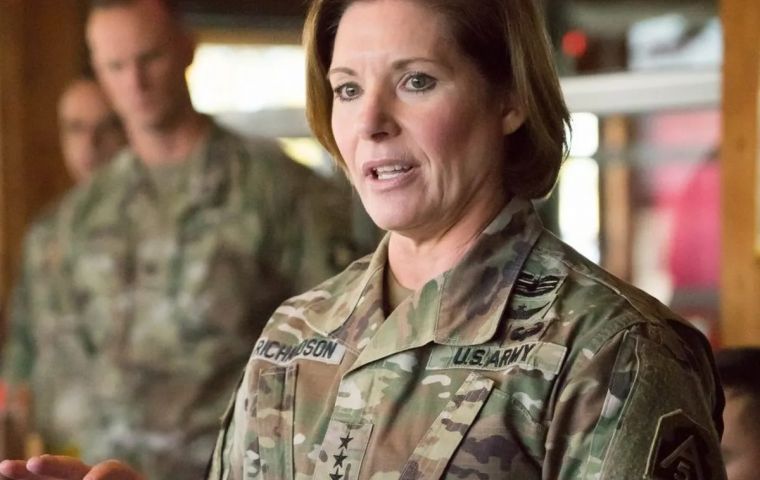 General Laura Richardson, chief of the US Southern Command is to be welcomed Tuesday in Buenos Aires by Defense Minister Jorge Taiana to discuss bilateral issues regarding mutual cooperation.
According to press reports in Buenos Aires, the first woman ever to hold such a high position might also meet with Vice President Cristina Fernández de Kirchner (CFK).
According to the US Embassy, Richardson will visit Argentina this month as part of a regional trip. Gen. Richardson is also to make humanitarian donations on behalf of the US Department of Defense to the White Helmets in Argentina.
The Southern Command is a Pentagon unit designed to defend U.S. interests in the region. Based in Miami, it oversees US bases in Latin America and provides training, intelligence, and military coordination to all regional armed forces, as per State Department recommendations.
The visiting military chief is married to General Jim Richardson, deputy commander of the Army's Future Command in Texas. Her trip comes just a few days after a mission to Washington by Argentine Secretary of Strategic Affairs Gustavo Béliz, who met with US National Security Advisor Jake Sullivan, President Joseph Biden's key aide on Homeland Security and head of the U.S. National Security Council.
Richardson took over from Admiral Craig Faller Oct. 30, 2021. She has already visited Colombia and Brazil, where she held meetings aimed at improving military cooperation.
She also focused on increasing the operability of the Brazilian Armed Forces in addition to a rapprochement in the South Atlantic and opportunities for future joint exercises.
Richardson is a native of Northglenn, Colorado, and a graduate of Denver's Metropolitan State University. She was commissioned as an officer in the US Army and trained as an Army aviator. She holds a master's degree in National Resource Strategy from the School for National Security and Strategy.
Read also: First female General chosen to head US Southern Command