IAPA concerned over Judiciary deployment in Costa Rican newspaper case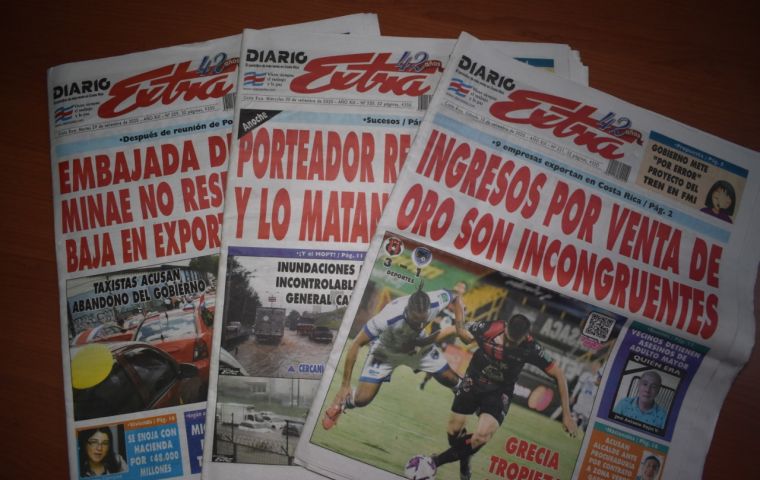 Inter-American Press Association (IAPA) President Jorge Canahuati urged Costa Rica's judiciary to handle the process with transparency and to observe the due process of law as legal action has been taken involving Diario Extra.
Authorities have already seized the personal telephone and the work computer of Iary Gómez, general manager of Sociedad Periodística Extra Ltda, which publishes Diario Extra.
Gómez denounced that her belongings were confiscated by agents of the Judicial Investigation Organism (OIJ), as well as the Public Prosecutor's Office (MP) as part of a lawsuit filed against her by a shareholder of the company. Her home and working spaces were also raided on May 18.
Canahuati, CEO of the Honduran Grupo Opsa, said: "We are concerned that this action may affect the obligation to keep secret the information received from different sources outside this case."
For his part, Carlos Jornet, chairman of the IAPA's Committee on Freedom of the Press and Information, added that "Without wishing to express an opinion on the case, we are concerned about the seizure of Gómez's cell phone and computer."
"Both are considered work tools where confidential information is stored. Essential for journalistic activity," added the editor of Argentina's La Voz del Interior.
Canahuati and Jornet recalled that the Declaration of Principles of Freedom of Expression of the Inter-American Commission on Human Rights establishes that "all social communicators have the right to reserve their sources of information. Personal and professional notes and files."
IAPA is a non-profit organization dedicated to the defense and promotion of freedom of the press and freedom of expression in the Americas. It is comprised of more than 1,300 publications in the Western Hemisphere. It is also headquartered in Miami, Florida, United States.