Uruguay records coldest, driest June in decades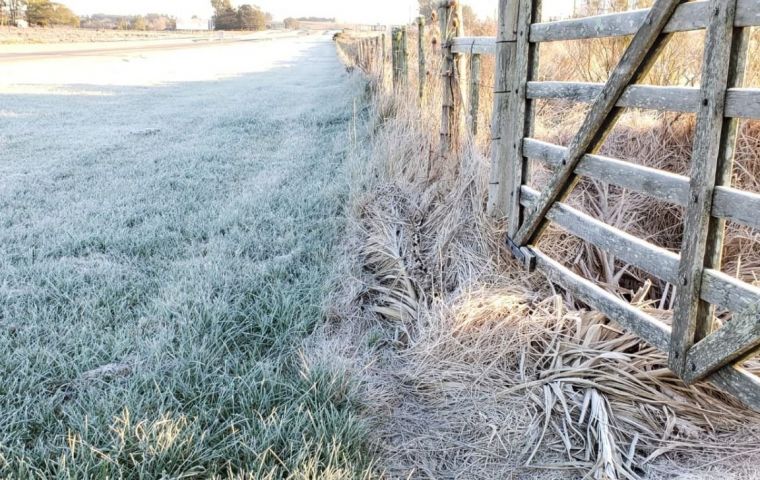 Uruguay's Institute of Meteorology (Inumet) reported Monday that this year's was the coldest June in the last 41 years "with a countrywide anomaly of -2.3°C."
"In average terms and on a countrywide scale, June 2022 registered the lowest anomalies, ranking as the coldest month of the 1981-2022 period," the agency indicated.
"The entire territory presented temperatures well below normal, with more anomalous values towards the northwest of the country. The range of anomalies was between -3.2°C in Salto and -1.4°C in Rocha," Inumet pointed out.
The average temperature in June ranges between 8.1°C and 11.1°C. The lowest values occurred in the center-south and west of the country, while the highest values were in the northeast and southeast.
Inumet also said that it was the fourth driest June in the last 42 years, with only 22.4 mm accumulated nationwide when an average of 92 mm are registered every year.
"In the month of June, rainfall was deficient throughout the country, with some regions in which it practically did not rain in the whole month," with values amounting to "below 1.0 mm," the agency stressed.
"While it is true that, according to 1981-2010 climatology, June is one of the months with the least rainfall compared to the other months of the year, particularly June 2022 was well below the expected in average terms and on a countrywide scale, with only 22.4 mm (normal value: 92. 0 mm), which represents -76% of what was expected," the Inumet report highlighted.
Inumet also reported the presence of unusual frosts in June 2022 above average values.
Meanwhile, just days after the driest June in ages, a heavy storm in Paysandú has led to the closing of the international bridge due to a power outage affecting the Integrated Control area of the Paysandú-Colón bridge. President Luis Lacalle Pou has announced he would visit the area Tuesday morning together with Presidential Secretary Álvaro Delgado.
The bridge has not been reported to have suffered any structural damage, but the National Direction of Migration of the Ministry of the Interior issued a joint communiqué with Argentine authorities announcing that "the passage of people through this migratory control point was momentarily suspended."
Pending further developments, Defense Ministry authorities have advised travelers to divert to the border crossings in Salto or Fray Bentos.
"While the electric power is being reestablished to allow normal operation and thus carry out the migratory controls, those who cross to Argentina or return through the coast are urged to do so through the border crossings of Salto or Fray Bentos," Uruguayan Defense Minister García explained on social media.