One dead after new quake hits Mexico on most historic seismic date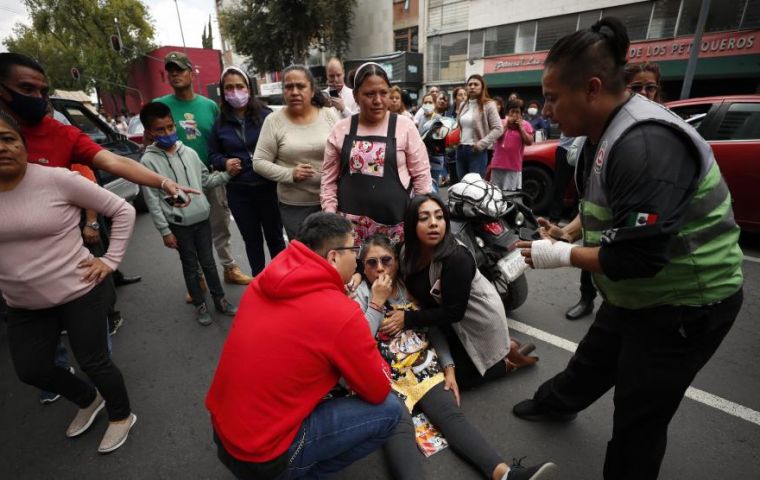 At least one person died Monday as a 7.6-degree Richter scale earthquake hit the Mexican State of Michoacán, on the Pacific coast, 59 kilometers south of Coalcoman, on the anniversary of two previous tremors that left thousands dead in 1985 and 2017, according to a National Seismological Service report.
President Andrés Manuel López Obrador (AMLO) also noted on social media that "one person died due to the fall of a fence of a shopping mall in Manzanillo," in the state of Colima.
The earthquake was first reported to have reached 6.8 degrees but later releases from the United States Geological Survey (USGS) pointed out it had hit the 7.6 mark.
The US NWS Tsunami Alerts declared a tsunami alert for the Michoacán coast, but Mexican Navy authorities later downplayed the situation saying that "the generation of sea level variations is not expected due to the location of the epicenter."
Mexico City Mayor Claudia Sheinbaum said that "no damages" were reported in the country's capital, although some power outages were recorded as the tremor was felt in several states. Monday's earthquake activated the seismic alert, which sounds a minute before the phenomenon occurs, causing havoc in a city of over 9.2 million people. The alarm went off less than an hour after millions took part in a national drill held every September 19. On that day in 1985, the most damaging earthquake in the country's recent history took place, measuring 8.1 and causing thousands of deaths. Meanwhile, in 2017, a 7.1 tremor caused more than 360 deaths, most of them in the capital.
In Michoacán, in the area of the epicenter, the earthquake caused some damage. "One of the most significant damages was suffered by the temple of Santo Santiago Apostle, which showed cracks and will have to be evaluated to rule out possible collapse," reported La Voz de Michoacán. It also detailed that "partially collapsed roofs of houses were reported, as well as shelves in stores with products lying on the floor".
The US Geological Survey later reported that the quake was centered 23 miles southeast of Aquila, near the boundary of Colima and Michoacan states, and at a depth of 9.4 miles.
Mexico's National Civil Defense agency said that based on historic data of tsunamis in Mexico, variations of as much as 32 inches were possible in coastal water levels near the epicenter.
USGS seismologist Paul Earle said it was a coincidence that the earthquake happened Monday. "There's no physical reason or statistical bias toward earthquakes in any given month in Mexico," he pointed out.