Minor accident disrupts operations at a Sao Paulo airport for a day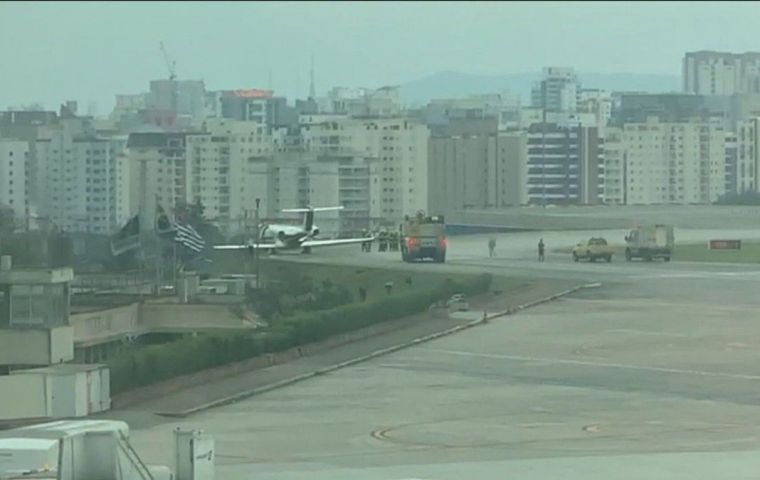 São Paulo's Congonhas Airport saw thousands of travelers cramming through the halls as operations were delayed for an average of 9 hours Sunday after a small-size aircraft suffered an accident that prevented the main runway from being used.
Air traffic at the old terminal in downtown São Paulo was halted between 1:32 pm and 10:18 pm after a small aircraft blew a tire.
Social media influencer Leticia Kava, who was in another airplane bound for Curitiba at the time of the accident, told Agencia Brasil that she and her fellow passengers "stayed in the plane from midday until 3 pm. The pilot didn't get any news."
She then had to wait another four hours to get her flight rescheduled for Monday at 3 pm, she explained: "We went back to the airport and stayed until 7 pm."
Doctor Tereza Barreto missed her flight bound for Salvador. "I stayed yesterday about two hours in line [trying to talk to the company by phone], and I couldn't, I gave up. I stayed today for another hour, only the employee couldn't complete the process," she said Monday after standing in line for more than 2 hours. "I had patients scheduled all day and had to reschedule everyone," she explained.
According to the Brazilian Airport Infrastructure Company (Infraero), 73 flights outbound and 67 inbound flights were canceled Sunday. The airport continued to operate with difficulties Monday and a dozen other flights were either canceled or had long delays.
Sunday's accident is being investigated by the Air Force's Center for Investigation and Accident Prevention (Cenipa). Five people were aboard the aircraft when it left the runway and stopped in the taxiing area. No one was injured.
(Source Agencia Brasil)