Foreign tourists spend record-high amounts in Brazil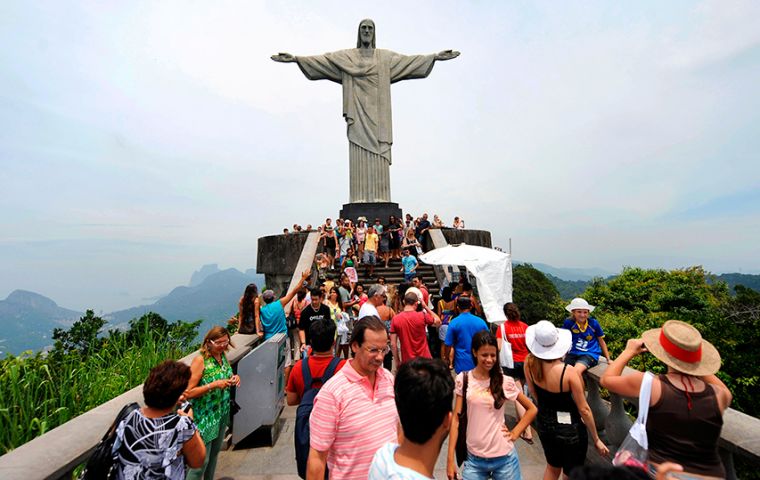 Foreign travelers have left behind record-high amounts of money in Brazil, according to a Central Bank (BCB) report released Tuesday.
The document showed spending above US$ 4 billion in the first ten months of 2022, the best achievement in the last three years, it was explained.
In 2020, foreign tourists spent US$ 2.9 billion in the South American country, while in 2021 the figure reached US$ 3 billion. In October of 2022 alone, expenditures amounted to US$ 413 million.
Brazil's state-run tourism agency Embratur pointed out that October was the fifth month in a row with foreign spending in Brazil exceeding US$ 400 million, an amount that in all of 2021 was not reached in any month.
In 2019, the last year before the pandemic, foreign tourist expenditures in Brazil were US$ 5.9 billion. The highest revenues were achieved in 2014, when the football World Cup was staged in Brazil, with US$ 6.84 billion collected.
According to Embratur, some 800,000 foreign tourists are expected to arrive during the upcoming summer season, between December 2022 and March 2023.
Earlier this month, Brazilian authorities had announced that by October, international air travel to and from the country had reached pre-pandemic levels.
Brazil's international air routes in October accounted for 98.3 % of those available in October 2019, with a total of 4,690 flights, the highest level since the border closures and other COVID-19 restrictions.
According to Embratur, the new number of international landings in Brazil last month represented a 10.42 % increase over September and a 17.93% improvement from October 2021.
Embratur also noted that between January and October of this year, Brazil inaugurated 87 new international routes and another 111 frequencies were added to existing routes.
By July 2023, 78 new flights and 82 additional frequencies are expected to be added to the international air travel schedule.
Argentina, historically the largest source of tourists to Brazil, was one of the countries that boosted connectivity. For the first time since 2019, it surpassed the 1,000 flights mark in the same month, with 1,049 landings in the country, while Portugal ranked second with 642 flights.
(Source: Xinhua)