Castillo housed at same detention center as fellow former President Fujimori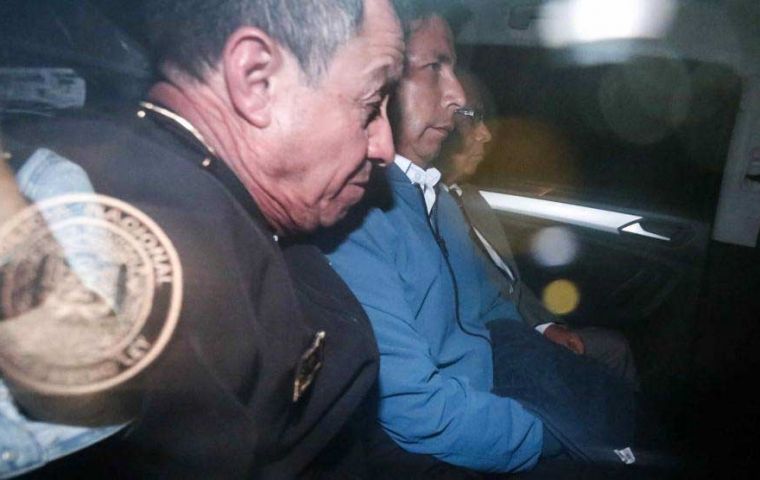 Peru's Prosecutor's Office Wednesday announced the arrest of former president Pedro Castillo Terrones for the "commission of an act in flagrancy" after his failed attempt to dissolve Parliament and his ensuing impeachment by Congress.
Castillo is therefore under arrest for the crime of rebellion, coordinating Prosecutor Marita Barreto told reporters. "We have proceeded in accordance with the law, a fundamental right was imposed, which is to be processed or investigated for the accusation of a crime," Barreto added.
The crime of rebellion carries a penalty of between 10 and 20 years in prison, it was explained.
The now-deposed President was taken alongside the former Cabinet Chief Aníbal Torres, one of his closest allies, to the same facility where his fellow former President Alberto Fujimori is serving his 25-year sentence.
After being held for several hours at the Lima Prefecture, Castillo was taken under heavy guard to a police barracks in the district of Rimac to board a helicopter that took him to the Police Special Operations Directorate (Diroes), also known as the Barbadillo prison.
While he was being taken to this facility, a team from the Public Prosecutor's Office, headed by Attorney General Patricia Benavides, and the National Police entered the Government Palace, as part of the preliminary proceedings against Castillo for the alleged crimes of rebellion and conspiracy. Several ministries were also raided in search of additional evidence in the rebellion investigation.
The Public Prosecutor's Office announced the beginning of these preliminary investigations while Castillo was detained in the Prefecture for allegedly "breaking the constitutional order", after ordering this morning the temporary closing of the Parliament and the establishment of a national emergency government, which was regarded as a coup attempt.
The move was not endorsed by the majority of the now former members of his government, nor by the Armed Forces, the National Police, the Constitutional Court, and the Judiciary.
After being removed from office by Congress, Castillo was arrested in an operation supervised by Prosecutor Benavides, who had described Castillo's bravado as a "breach of the constitutional order."