Deforestation of Brazilian Amazon hit record highs in Bolsonaro's last year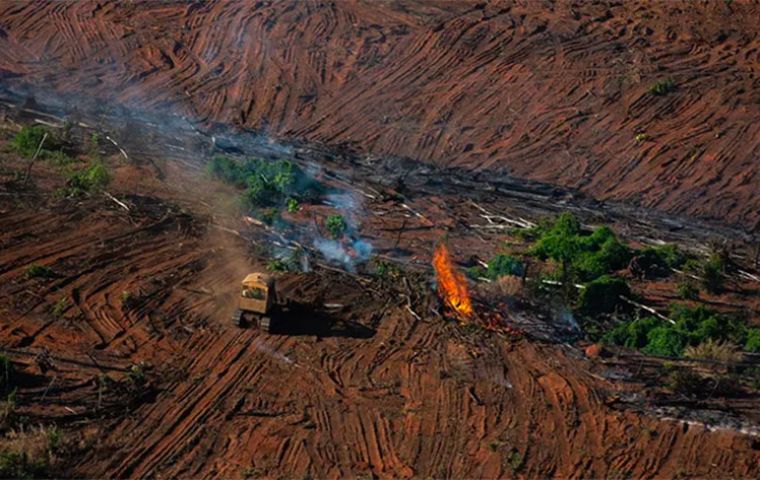 Deforestation of the Brazilian Amazon during 2022, the last year of rightwing President Jair Bolsonaro in office, reached a surface akin to that of a country such as Lebanon, it was reported Friday.
The Brazilian Amazon -the world's largest rainforest- lost 10,267 square kilometers of vegetation in 2022, a 24.9% increase from 2021's 8,219 square kilometers, and the largest since the National Institute for Space Studies (INPE) began measurements in 2015.
Before 2022, the year with the highest deforestation was 2019, with 9,178 square kilometers. It was also Bolsonaro's first year as President. During his four-year term, he stood for full-scale mining and for dismantling oversight agencies.
Friday's data was released by Deter, a mechanism that uses satellite images to issue monthly and real-time alerts about threatened areas in the Amazon. However, the Prodes tool used by INPE to calculate deforestation and which is published annually is said to be more accurate.
According to the latest Prodes bulletin released in November, the Amazon lost 11,568 kilometers of vegetation between August 2021 and July 2022, 11.3% less than the previous year's 13,038 square kilometers but the second highest in the last 14 years.
Environmental organizations had already warned that the destruction would grow at a record pace in the last months of 2022 as Bolsonaro's defeat seemed imminent and that restrictions would be reinstated under current President Luiz Inácio Lula Da Silva, who promised that one of his government's priorities will be to minimize deforestation in the Amazon, as he did during his first two terms in office (2003-2010). He also pledged to combat illegal logging and mining.
Read also: Brazil: Environment Minister announces National Authority for Climate Security
According to INPE data, between August and December 2022 alone, 4,793 square kilometers of rainforest were cleared in the Amazon, a record value for the period. In December alone, deforestation extended over 218.4 square kilometers, a 150% yoy increase.
"Bolsonaro's government is over, but his disastrous environmental legacy will still be felt for a long time," Climate Observatory Executive Secretary Marcio Astrini was quoted as saying.