Peru: Juliaca airport violence ends up in 17 people dead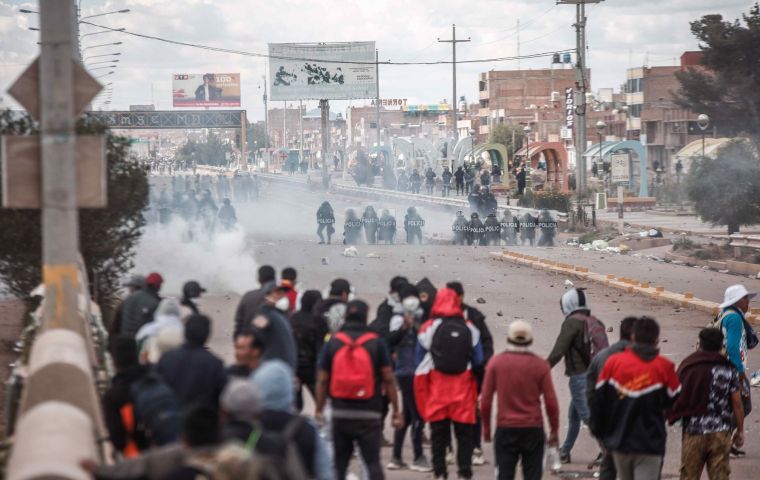 At least 17 people were killed and 40 others injured Monday in the southern Peruvian city of Juliaca as protests against President Dina Boluarte resumed following a year-ending truce. The victims had projectile impacts on their bodies, according to local TV reports.
The demonstrators clashed with police as they demanded the release of incarcerated former President Pedro Castillo Terrones and a call for fresh elections. Castillo was impeached after trying to dissolve Congress and rule by decree. He has been under arrest since Dec. awaiting trial for treason and other charges.
Protesters demand the resignation of former Vice President Dina Boluarte, who took office following Castillo's removal, and who is regarded as a traitor.
Since the beginning of the protests, 46 people have been reported to have died in various incidents nationwide, including a policeman who was burned to death.
According to local media, some 2,000 people tried to take over the Juliaca airport by force while there were also reports of looting. The airfield is under police and military protection. A similar takeover attempt had occurred on Saturday, although on that occasion no casualties were reported.
"What is happening is a massacre among Peruvians, I ask for calm, do not expose yourselves," Juliaca Mayor Oscar Cáceres said in a radio statement.
Monday's violence originated when some two thousand people attempted to storm the Juliaca airport, 1,300 km south of Lima, in the Puno region.
"Today, more than nine thousand people approached the Juliaca airport and approximately two thousand of these began an all-out attack against the police and the facilities, using witchcraft weapons (improvised weapons) and with a double charge of gunpowder, generating an extreme situation," Prime Minister Alberto Otárola told reporters.
Protesters maintained road blockades on Monday in six of the country's 24 departments, including tourist areas such as Puno, on the shores of Lake Titicaca; Cusco, Arequipa, Madre de Dios, Tacna, and Apurimac.
The Inter-American Commission on Human Rights (IACHR) has announced that a team will be visiting Peru later this week "to observe the human rights situation."
The Commission "appreciates the openness of the State of Peru to cooperate and dialogue within the framework of its human rights obligations" and thanks "its willingness to receive it," the IACHR said in a statement.
The IACHR also condemned Tuesday the death of at least 17 people in Monday's anti-government protests in Juliaca. "The IACHR condemns the death of at least 17 people in the vicinity of the airport in Juliaca on January 9, where dozens of people were also injured," the IACHR posted on its Twitter account while urging the Peruvian State to "take immediate measures to prevent and punish the excessive use of force in social protests" and to "continue generating effective mechanisms of dialogue to address social conflict and prevent trust."
In addition to Boluarte's resignation, the demonstrators demand the closing of Congress, the advancement of general elections to 2023, and the calling for a constituent assembly.