Japanese FM meets with Argentine President Alberto Fernández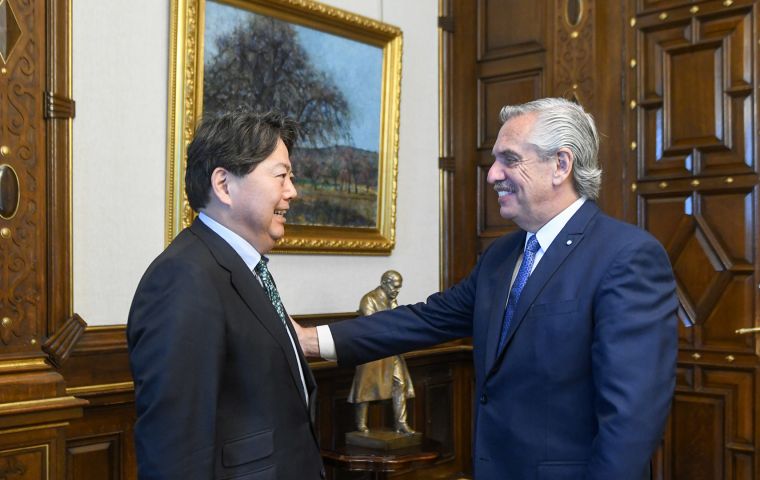 Argentine President Alberto Fernández Tuesday met with Japan's Foreign Minister Yoshimasa Hayashi to advance in a "global strategic partnership" during an encounter at Casa Rosada marking the 125th anniversary of diplomatic relations between the two countries.
"We are taking another step forward in the diplomatic relationship: it means the possibility of expanding bilateral trade, of US$ 1,862 million in 2021, strengthening the bilateral agenda on trade, economic and financial issues and greater coordination in multilateral organizations," wrote President Fernández in his official Twitter account. "We will continue moving forward to turn the Strategic Relationship, into a Global Strategic Partnership," he added.
Argentine Foreign Minister Santiago Cafiero, who was also present, said that "with Japan, we are united by different views, fundamentally of coordination with respect to the Treaty on the Non-Proliferation of Nuclear Weapons, links from the scientific and technological point of view, the aerospace industry, the nuclear technology industry for peaceful purposes and the development we have in Antarctica."
Cafiero also highlighted the existence of a 65,000-strong community of Japanese people who have "integrated into the Argentine culture and have enriched it."
Hayashi also met earlier with Economy Minister Sergio Massa to discuss bilateral economic issues, particularly those linked to more Japanese investments in strategic productive sectors, financial exchange, energy cooperation, and the expansion of bilateral trade.
There are currently about 70 Japanese companies in Argentina in different sectors such as automotive, mining, hydrocarbons, and clean energies. Hayashi pointed out that many Japanese companies were interested in increasing their presence in Argentina, considering the enormous business opportunities that the country presents, mainly in areas such as critical minerals, agribusiness, and industrial manufacturing. Massa and Hayashi agreed that the Strategic Association Agreement between both countries should be the basis to continue expanding the bilateral economic link.
Joining Hayashi at the meeting were Foreign Ministry's Director General for Latin America and the Caribbean, Kobayashi Maki, and Tokyo's Ambassador to Buenos Aires Yamauchi Hiroshi.
Hayashi is on a Latin American tour which included a stop in Ecuador and another in Brazil, which was mired by Sunday's events in Brasilia. After a meeting on Monday with his Brazilian colleague Mauro Vieira, the Japanese official stressed that "we must not accept that democracy is threatened with violence." He also proposed that Japan strengthen its cooperation with Brazil on environmental issues, which President Luiz Inácio Lula Da Silva's administration holds to be of the utmost importance.