Untracked flight between Buenos Aires and Mount Pleasant reported
Wednesday, January 11th 2023 - 21:30 UTC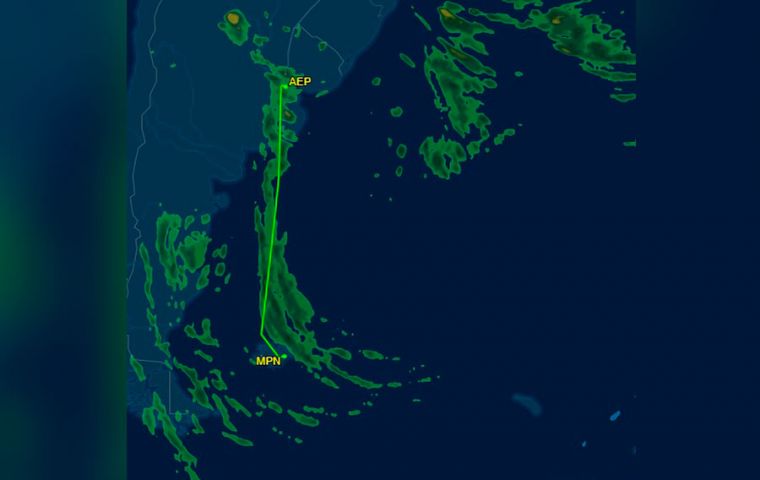 An Argentine-registered private aircraft has been reported to have performed a nonstop return trip between Buenos Aires' Aeroparque Jorge Newbery (AEP/SABE) and the Mount Pleasant air base (MPN/EGYP) in the Falkland Islands late on Monday.
Although the nature of the flight has not been officially confirmed, it is speculated that given the time spent at the destination, it must have been a sanitary mission.
The 1996-built Learjet 60 private aircraft registration LV-CCO belongs to Baires Fly, a company making charter flights. It rang a few alarms when it could not be properly identified by the tracking website Flightradar24, which gathers information from each aircraft's ADS-B Transponder system.
According to flightaware.com, the aircraft had arrived from Montevideo's Carrasco at 4.02 pm Monday and took off from Aeroparque bound for the Falklands at 5.43 pm, landing at the British Overseas Territory at 8.17 pm local time. It stayed there for less than one hour: at 9.15 pm it flew back to Aeroparque, where it arrived at 11.56 pm.
Since the 1982 armed conflict, there are no direct flights from Argentina to the Islands other than LATAM Airlines' services or some occasional flight for humanitarian reasons such as when samples of the bodies of Argentine combatants buried there were taken to the forensics laboratories in Córdoba in an ICRC-supervised operation to identify the remains of the Argentine soldiers.
Flightradar24 being unable to identify the flight does not mean a flightplan had not been properly filed, it was reported.