Brazil: Draft for Bolsonaro to change election results found at Torres' home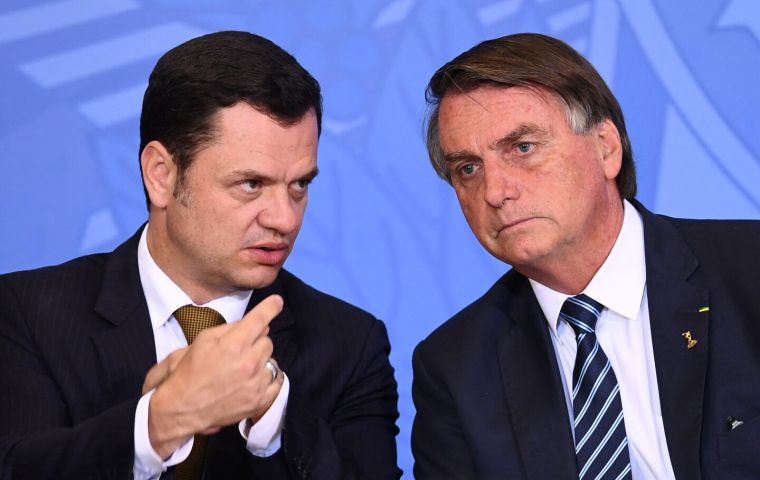 Brazilian investigators Thursday announced the finding of a draft at the home of former Justice Minister Anderson Torres of a decree whereby then-President Jair Bolsonaro would alter the outcome of the elections won by Luiz Inácio Lula Da Silva.
Torres became Brasilia's Security Secretary after the end of Bolsonaro's term but was fired from that position for his sloppy work regarding last Sunday's incidents. Signing his dismissal as Governor Ibaneis Rocha, who was later suspended for 90 days by Supreme Federal Court (STF) Justice Alexandre De Moraes pending further inquiries into his alleged blind eye regarding the uprising in the making.
Federal Police found Thursday in Torres' home a draft decree for Bolsonaro to endorse a military intervention of the Superior Electoral Court (TSE), to reverse the result of the Oct. 30 runoff.
According to Folha de Sao Paulo, the document was found in a closet of the former minister's home during the search carried out on Tuesday on De Moraes' orders. The magistrate has also ordered Torres' arrest, but the former official is on vacation in the United States.
The decree appears to have been drafted after the elections and was intended to investigate the alleged abuse of power by the Superior Electoral Court, also chaired by De Moraes. Bolsonaro had repeatedly spread unsubstantiated accusations against the electronic voting machines used in Brazilian elections since 1996.
According to UOL, sources close to Bolsonaro, who is also in the US State of Florida, said the former president and minister had met last Saturday, ahead of Sunday's riots.
In granting the arrest warrants requested by the Federal Police against Torres and Brasilia Police Colonel Fabio Augusto Vieira, who was in charge of Sunday's operations, De Moraes said that their conduct had put at risk the lives of President Lula, federal deputies, senators, and judiciary magistrates. De Moraes also mentioned "a possible criminal organization" seeking to "destabilize the republican institutions."
After learning of the discovery of the draft, current federal Justice Minister Flávio Dino said the news was "appalling." In statements to CNN Brazil, Dino said that "this was clearly an attempted coup d'état, which emphasizes that what we saw here on January 8 was not something isolated, but a link in a chain of coup acts, among which there were frightening preparations, such as this decree of military intervention to the TSE."
Meanwhile, Torres said that the discovered document had been "leaked out of context," Agencia Brasil reported. Torres explained on social media that ministers receive documents, suggestions, and proposals "of the most diverse types" and he claimed that such a draft would be in a pile of documents that would be discarded.
"The cited document was caught when I was not there and leaked out of context, helping to feed fallacious narratives against me. We were the first ministry to deliver the management reports for the transition. I respect Brazilian democracy. My conscience is clear about my performance as a minister," he stated.