Avian flu emergency decreed in Honduras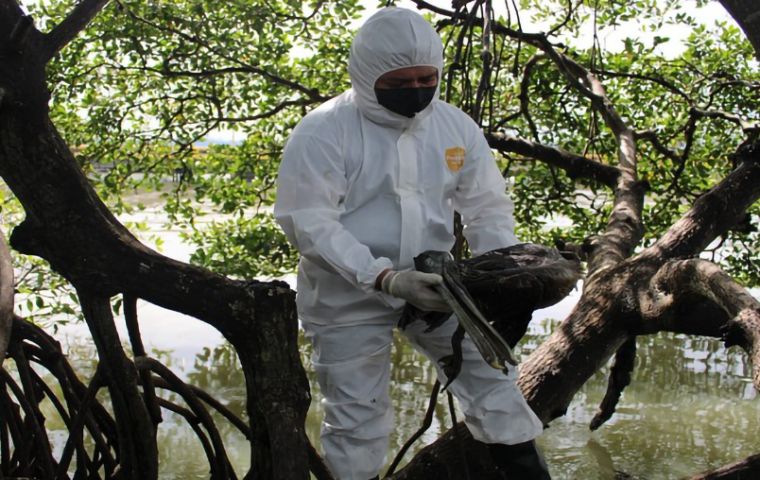 Honduran authorities have declared a 90-day nationwide health alert following an outbreak of avian influenza among pelicans, it was announced in Tegucigalpa. About 40,000 poultry were also evaluated and no signs of the malady were detected, it was also reported.
The measure to "control and eliminate the presence of avian influenza in domestic and wild birds" might be extended, depending on "the epidemiological evolution," the Honduran government also said.
Two outbreaks of avian influenza (H5N1) were spotted in wild birds found dead on the seashore in Atlantida. To date, 98 cases have been reported, of which 93 were found in La Ceiba and Puerto Cortés, and the remaining five were sick and had to be culled.
"We will be alert for the 90 days that the declaration lasts and in this first phase, we ask for the collaboration of the population to notify the presence of dead or sick pelicans," Emergency Operations Officer Luis Florentino Martínez told reporters.
Agriculture Secretary Laura Elena Suazo also explained that places at risk of avian flu had been fenced and that the disease had not reached domestic birds and stressed that the decree complied with international regulations while recalling that Mexico, Panama, and Chile had also declared avian flu emergencies.
Josué Lemus, Avian Flu Coordinator at the Epidemiology Department said boat tours and "visits to neighborhoods and colonies" to prevent influenza in domestic poultry were undertaken. "We will continue in the field until we have an analysis that confirms that the disease has been reduced; the risks for backyard poultry populations are lower, and we have no reported cases," he said.
Last Wednesday, some 50 pelicans were culled as part of the measures to prevent the spread of the disease.