Parts of Peru under state of emergency, basic rights suspended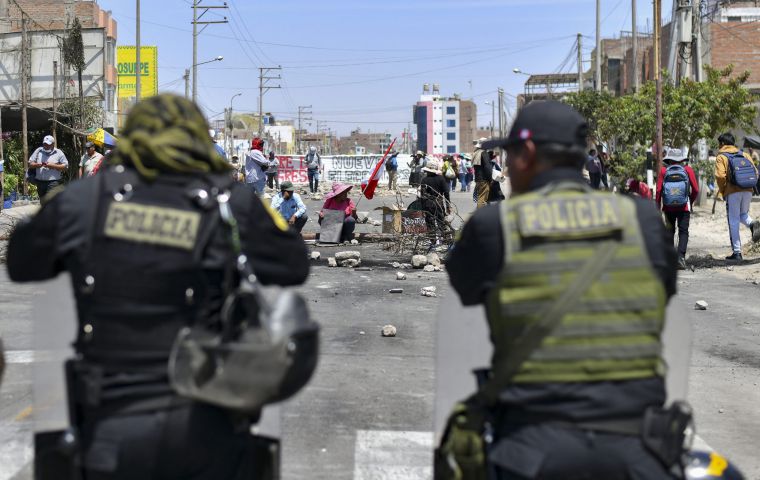 The Peruvian Government of President Dina Boluarte has declared a state of emergency in several areas of the South American country after over a month of social unrest.
The measure is effective starting Jan. 15 in the Departments of Puno, Cusco, Lima, in the Constitutional province of Callao, in the province of Andahuaylas in the Department of Apurimac, in the provinces of Tambopata and Tahuamanu in the department of Madre de Dios, and in the district of Torata, province of Mariscal Nieto in the department of Moquegua, it was announced.
"The Peruvian National Police (PNP) maintains control of internal order, with the support of the Armed Forces," the government said in a statement.
The protesters demand Boluarte's resignation and the release of former President Pedro Castillo Terrones, who was incarcerated after being impeached for trying to dissolve Congress and rule by decree.
The new measure means certain rights such as the inviolability of the domicile is suspended, as is the freedom of transit and assembly, in addition to a curfew for 10 days starting Jan. 15 in the department of Puno from 8 pm to 4 am.
The state of emergency also covers highways of the National Road Network: Panamericana Sur, Panamericana Norte, Carretera Central, Corredor Vial Sur Apurímac-Cusco-Arequipa and Corredor Vial Interoceánica Sur.
Protests have been mounting since Dec. 10 demanding Boluarte's departure from office and the calling for fresh elections, as well as a constitutional assembly. At least 48 casualties have been reported since the beginning of the social unrest.
"As part of the declaration of emergency in these parts of the country, the rights related to the inviolability of domicile, freedom of transit through the national territory, freedom of assembly, and personal freedom and security are suspended," the Interior Ministry explained.
At the end of the state of emergency, the PNP is to deliver a detailed report to Interior Minister Vicente Romero within five working days on the actions taken and the results obtained during this period.