Residents evacuated, lake navigation restricted due to fire in Chubut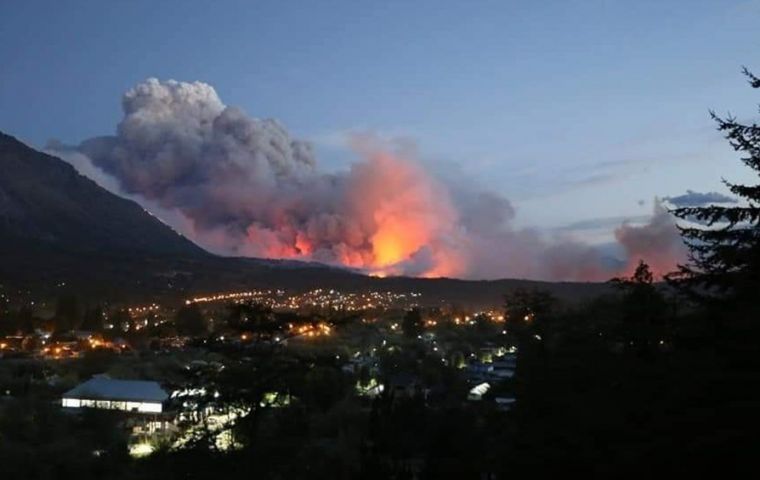 Around 60 people have been evacuated from their homes in the town of El Hoyo in the Argentine province of Chubut while 135 firefighters were deployed together with three hydrant planes and a helicopter to face the flames having gripped the Currumahuida hill since Sunday afternoon, it was reported.
The fire was still active around noon Monday, authorities also said. "All resources were devoted to controlling the fronts in the area of El Sauzal so that the fire does not reach the houses," El Hoyo's Emergency explained.
The 58 people displaced from their homes were taken to a school nearby, it was also reported.
An orange alert has been issued for the El Sauzal neighborhood, which was facing a possible evacuation, while Valle del Pirque was under a yellow alert. El Hoyo's City Council once again decreed a fire emergency.
Navigation was restricted in the area of Puerto Patriada in Lake Epuyén and the outlet of Lago Puelo because airborne firefighting brigades would be collecting water from there.
Firefighters from the Provincial Fire Management Service of Golondrinas, Epuyén, Lago Puelo, El Maitén, Puerto Patriada, Cholila, and the National Brigade were also summoned to participate in the operations with support from the National Roads Bureau (Vialidad Nacional) and Federal Police.
A Chinook from the National Brigade joined in on the efforts. The same aircraft had arrived last month in Bariloche, in the province of Río Negro.
It was also reported that foreign participants at a current Ibero-American convention of forest firefighters had offered their assistance.
The El Hoyo fire started in the vineyard area, near the Labyrinth, a recreational area of El Hoyo. Intentionality is not ruled out.