Alberto Fernández: Argentina was the "second fastest growing economy in the world after China"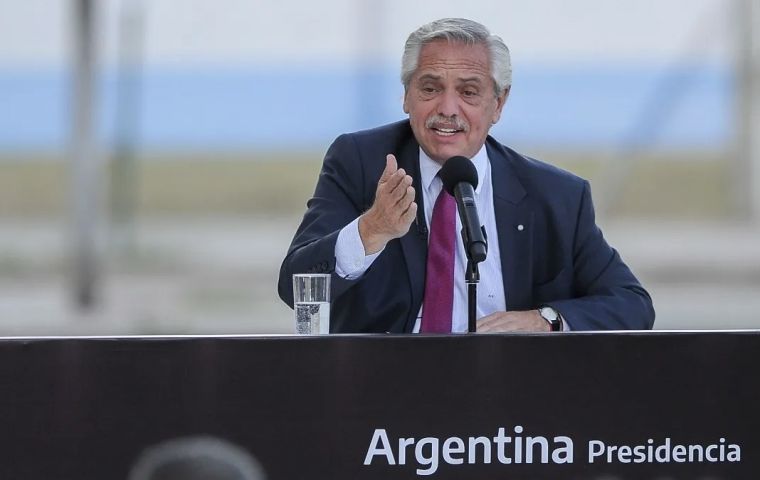 The President of Argentina, Alberto Fernández, highlighted Tuesday the growth of the Argentine economy in the last two years and valued the Government's progress in infrastructure.
"The Argentine economy in 2021 will grow 10.3 points and in 2022 almost 6 points. We are, in those two years, the second fastest growing country in the world after China", said Fernández during the presentation of a hospital expansion in the province of Buenos Aires, according to Infobae.
Fernández explained that this increase was due, in part, to the negotiations between her government and the International Monetary Fund (IMF).
"Against all the forecasts that were made when we closed the agreement, reality says that we were right because we signed an agreement in which we told the Fund, 'first you are going to let me grow and then I am going to pay you'," he said.
The President also said that 2,838 public works were completed throughout the country and referred to the creation of new jobs in Argentina.
"We created one and a half million jobs, so it is not true that we adjusted. The workers, who in the pandemic managed to keep their jobs thanks to the ATP (Programa de Asistencia al Trabajo y la Producción), had their free paritarias and beat inflation. They are 8 points higher, but it is not enough. Many reach the end of the month exhausted. But it is also true that under the previous government the real salary fell 20 points", he said.
Fernández said that the government before his "told workers to become entrepreneurs and to deliver pizzas", and that he, "on the other hand", wants "Argentines to have decent jobs".
"The only thing that frustrated Argentines is that president we had and who is called Mauricio Macri. There is a constant preaching that seeks to discourage us. I ask them not to discourage us, they already lied too much, I do not know if they stole a GDP as they said, but enough to make their families rich", pointed out the Justicialist leader.