Bolsonaro given 3 days to explain draft found at Torres' home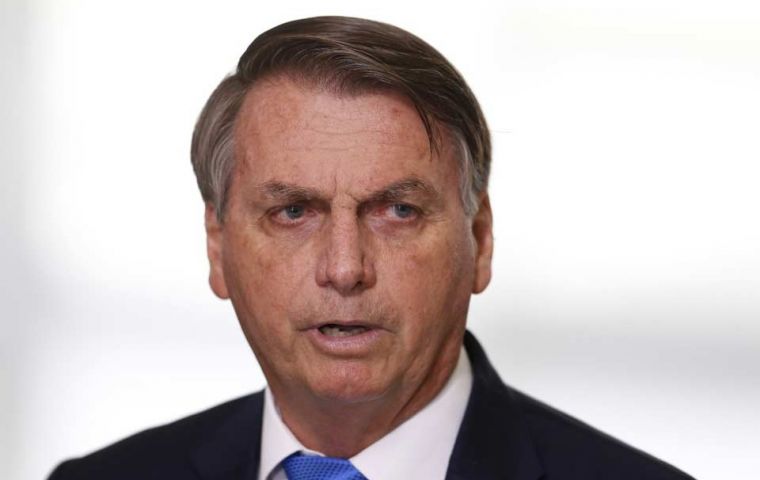 Brazil's Superior Electoral Court (TSE) Justice Benedito Gonçalves Monday gave former President Jair Bolsonaro three days to explain the scope of the documents found among the belongings of then-Justice Minister Anderson Torres.
A Federal Police raid of Torres' home on orders from Supreme Federal Court (STF) Justice Alexandre De Moraes -who is also the TSE's Chief Justice- came across last week a draft whereby Bolsonaro was to annul the outcome of the Oct. 30 runoff while providing for a military intervention of the Electoral Justice.
Gonçalves acquiesced to a request from the Democratic Labor Party (PDT) and included the document among the evidence gathered by the so-called Electoral Judicial Investigation Action (Aije) targeting Bolsonaro.
The probe into Bolsonaro's possible abuse of political power was triggered by a meeting convened by the then-head of state with foreign ambassadors in Brasilia, during which he presented incomplete information about the Brazilian electoral process.
The PDT argued that the draft under question bolstered Bolsonaro's narrative that he intended to take power by force if he lost the elections. The draft was said to be an "embryo with the intention of a coup d'état" to "density the arguments that show the occurrence of abuse of political power aimed at promoting discredit to this Electoral Justice and the electoral process, in order to change the outcome of the elections."
Gonçalves agreed with the arguments and said there was an "unequivocal correlation between the facts and [the] new documents". Such evidence comes to add to the narrative that Bolsonaro sought to keep alive in his base the idea of fraud.
The draft found at Torres' home provides for the declaration of a State of Defense, with the intervention of the Armed Forces on the TSE headquarters in Brasilia.
According to the text that was to be signed by Bolsonaro, an electoral board would be created to guarantee the smoothness of the electoral process. "This type of intervention by one branch [of government] over another is not foreseen in the Constitution," Agencia Brasil explained.
In his defense, Torres said that the document was leaked "out of context", and that the draft was found in a pile of papers to be disposed of.
Torres, who is also the former Public Safety Secretary of the Federal District, is being held in a battalion of the Military Police of the Federal District also by order of De Moraes.
He is investigated for alleged omission and connivance with the coup acts of Jan. 8, when Congress, the Planalto Palace, and the headquarters of the Supreme Court were stormed by groups of Bolsonaro followers. (Source: Agencia Brasil)