Religious leaders to pray for Peru's future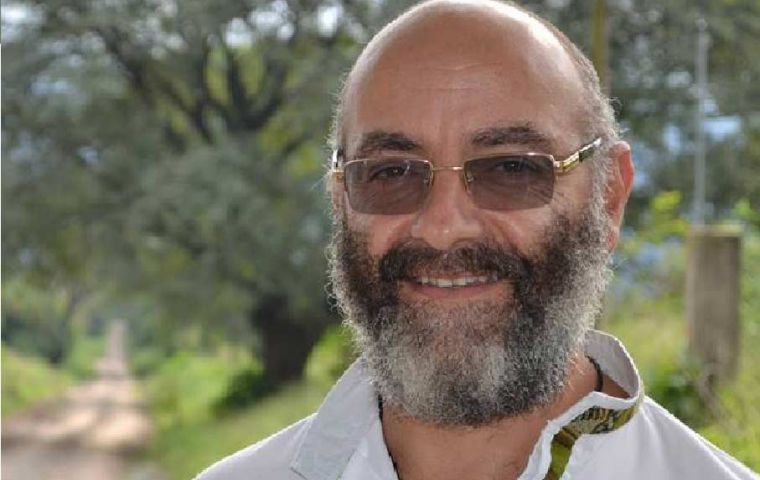 Peruvian President Dina Boluarte met Monday with religious leaders of various faiths to promote dialogue amid mounting tension as protesters are preparing to stage a mass rally this week in Lima demanding her resignation, in addition to other measures.
The meeting at the Presidential Palace was attended by representatives of the Interreligious Council of Peru, which includes Christian, Evangelical, Jewish, Islamic, and Buddhist organizations, Peru's government explained through a statement.
The religious leaders advocated for the construction of a country "in peace, without discontent, and with the opening of spaces to talk, listen and walk the path of unity and development."
Council Secretary Laura Vargas said the organization was willing to "promote dialogue, forgiveness, and to travel" whenever necessary.
Boluarte thanked the leaders for "their interest and concern for joining in the search for social peace in the country and stressed the need for dialogue to be sustained over time among all Peruvians," the statement went on.
Council Chairman Monsignor Salvador Piñeiro said that they would pray "so that Peru may be a country of brothers, where tolerance, understanding, and solidarity prevail." Piñeiro also said that the Argentine priest Luis Humberto Béjar, who had called for Boluarte's resignation, had been sent back from the Puno parish to his native country.
"Puno Bishop Monsignor Jorge Carrion has taken away his license. He can no longer serve as parish priest in Pucará (Puno) and has asked him to go to his country to rest for a year so that he can reflect because these imprudences make us misunderstand and create all this atmosphere of disunity. Today more than ever, Peruvians feel like brothers," Piñeiro insisted.
Father Luis Humberto is from the Argentine Province of Tucumán, although he has lived in Juliaca for the past 32 years. He went viral last month for celebrating Argentina winning the football World Cup during mass. He has also ran for mayor of his native town of Tafí.
The meeting was held one day after the Archbishop of Lima, Carlos Castillo, celebrated a bilingual mass in Spanish and Quechua calling for peace and against "those who give the wrong orders, [who are] propagators of death."
The meeting with Boluarte was attended by representatives of the Union of Evangelical Christian Churches of Peru, the Conference of Religious of Peru, the National Evangelical Council of Peru, the Church of Jesus Christ of Latter-day Saints, the Jewish Association of Peru, the Islamic Association of Peru and the Bahai Community of Peru. Also in attendance were members of the Anglican Church of Peru, the Lutheran Church of Peru, the Zen Buddhist Sotoshu Community of Peru, the Brahma Kumaris Peru, the Interfaith Network of Women of Faith and Spirituality, the Peruvian Youth Network of Religions for Peace, and Religions for Peace, Latin America and the Caribbean.
Meanwhile, over 50,000 protesters are planning to rally en masse throughout Lima in the coming days to demand Boluarte's resignation. Labor unions have also called for a national strike Thursday.
Thousands of peasants from southern Peru, including Puno, are planning to converge in Lima later this week, undeterred by the nearly 50 deaths recorded so far since the beginning of the uprising after former President Pedro Castillo Terrones was impeached for trying to dissolve Congress and rule by decree in early December, Castillo has been in pre-trial detention since then. Some groups of ronderos, peasants who patrol their villages as a form of traditional security, have already begun to arrive in Lima from the Cajamarca region.
"We are going to be in the capital to make our voice of protest heard," said Jimmy Mamani, president of the Association of Populated Centers of El Collao province, an Aymara area of the Puno region, bordering Bolivia. Mamani, mayor of the town of San Isidro, is one of hundreds of peasants ready to leave Monday afternoon to cover the 1,350 kilometers that separate his community from Lima. "We are going to enter through the four cones of Lima (north, south, east, west). We want to make a peaceful mobilization without inconveniences," he added.
"It will be like the march of the four suyos," Mamani also explained. That same name was used in the massive three-day march that in July 2000 led to the fall of the autocratic regime of Alberto Fujimori (1990-2000) in November of that year. A suyo is the native tongue voice for a province of the ancient Inca empire, which was divided into four suyos.
Protesters also kept around 100 road blockades active nationwide by Monday, it was reported.
In addition to Boluarte's resignation, the rioters want fresh elections and a Constituent Assembly. Boluarte is denying all three requests, thus fueling nationwide uprisings which are met by security forces resulting in violent clashes. "Dina asesina" (Dina murderer), shout the demonstrators.
According to the latest survey by the Institute of Peruvian Studies (IEP), Boluarte has a 71% negative image, only surpassed by that of Congress: 88%.