Argentina's trade surplus in 2022 shows significant drop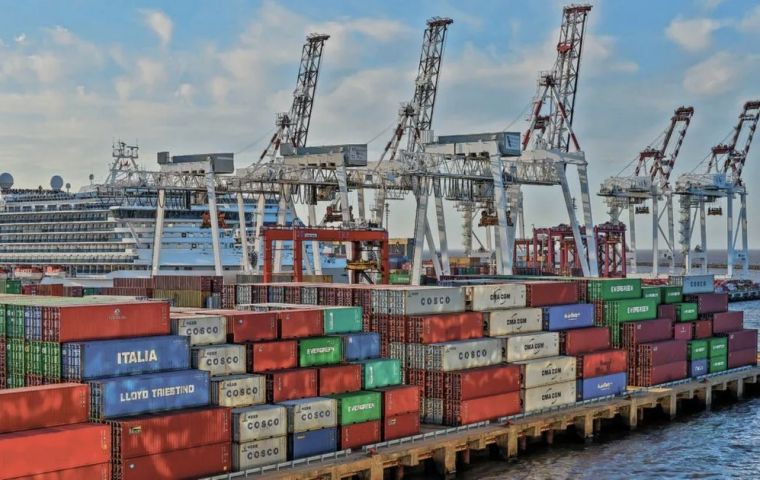 Argentina recorded a trade surplus in 2022 of US$ 6.923 billion, according to a National Institute of Statistics and Census (Indec) report released Thursday. It was a significant setback from the US$ 14.751 billion recorded in 2021, particularly after additional restrictions were placed on imports in the second semester after Super Economy Minister Sergio Massa took office.
However, this outcome could only be achieved after a positive net difference of US$ 1.102 billion was recorded in December, which represented substantial progress from US$ 371 million in the same month of 2021.
Last month, Argentine exports reached US$ 6.119 billion against imports worth US$ 5.017 billion, with trade as a whole (exports and imports combined) decreasing by 13% from the same month the previous year, reaching US$ 11,136 million.
Exports fell 7.1% compared to the same month of 2021 (-US$ 468 million) due to a 13.1% drop in quantities, as prices increased 6.8%. In seasonally adjusted terms, exports decreased 8.6% and the trend-cycle,
1.8% compared to November 2022.
Sales of primary products (PP) decreased 26.4% and manufactures of industrial origin (MOI), 9.4%; while fuels and energy increased 7.5% and manufactures of agricultural origin (MOA), 5.4%.
By the same token, imports decreased 19.3% compared to December 2021 (- US$1.199 billion) due to a 21.8% decrease in quantities, as prices grew 3.3%.
In seasonally adjusted terms, purchases abroad fell 2.0% and the trend-cycle, 3.0% from November 2022. All economic uses registered negative variations.
Fuels and lubricants fell 38.6%; others, 35.4%; mostly due to the decrease of goods shipped through postal services (couriers); capital goods 23.9%; intermediate goods 19.3%; parts and accessories for capital goods 10.5%; consumer goods 8.4%; and passenger motor vehicles 5.2%.