Former Brazilian First Lady regarded as possible presidential contender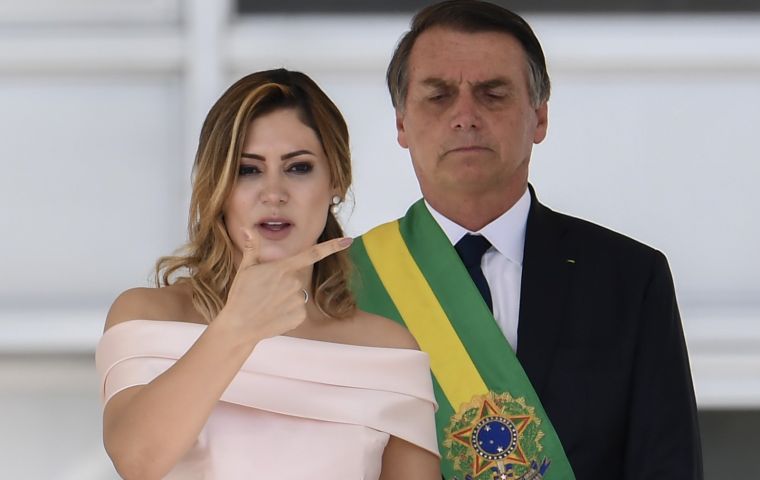 Brazilian rightwing politicians are focusing on former First Lady Michelle Bolsonaro to pick up the baton should her husband be disenfranchised and therefore become ineligible to run in future elections.
Jair Bolsonaro is targetted by some 20 judiciary inquests for his deeds as president and also for his possible involvement in the Jan. 8 uprising against the headquarters of the three branches of government in Brasilia. In this scenario, his removal from the political arena is not regarded so much as a matter of "if" but of "when."
Something similar has already happened to current President Luiz Inácio Lula Da Silva, who was convicted of corruption in 2018, in a ruling that was eventually annulled by the courts.
Hence, Bolsonarists are looking for alternatives. The 40-year-old Michelle de Paula Firmo Reinaldo Bolsonaro has a good image but is not as charismatic as her husband, whom she met while holding a clerical job in Congress in 2007. The former Army captain is 27 years her senior. The couple married that same year and have a daughter together. Michelle also has another daughter from a previous relationship.
A pious member of the Brazilian Evangelical Church, Michelle attends mass every Sunday and actively participates in her congregation. Bolsonarism is strongly supported by the powerful evangelical movement, which accounts for 30% of the country's constituency.
During last year's presidential campaign, Michelle underlined that Brazil was facing "a struggle between good and evil" and insisted Lula's two previous administrations were dedicated to "the devil."
However, the inner circle of the Bolsonaro family is aware that Michelle lacks what it takes to stir up the Brazilian radical right masses. "She has a sweet, balanced, loving style," Brazilian analyst Antonio Lavareda told TN. "She is a good complement to her husband. But alone, as a protagonist, she would lack the testosterone of the rabid discourse, of the cult of weapons, of the violent attacks to the adversaries, which are at the root of the base of the altar of Bolsonarism," he added.
The right-wing Liberal Party (PL) is already looking for a successor to Bolsonaro and Michelle might be the one, Political analyst Guilherme Amado wrote on the website Metropoles. "The PL's idea is to expand the former first lady's performance space, to prepare her to ultimately be the name of the party and of Bolsonarism in the dispute for the presidency in 2026,″ said Amado.
However, Bolsonaro's sons Eduardo and Flávio have a political ambition of their own, which might spark a feud within the Conservative family.
(Source: TN)