Pope welcomes Ecuadorian President, calls for no more deaths in Peru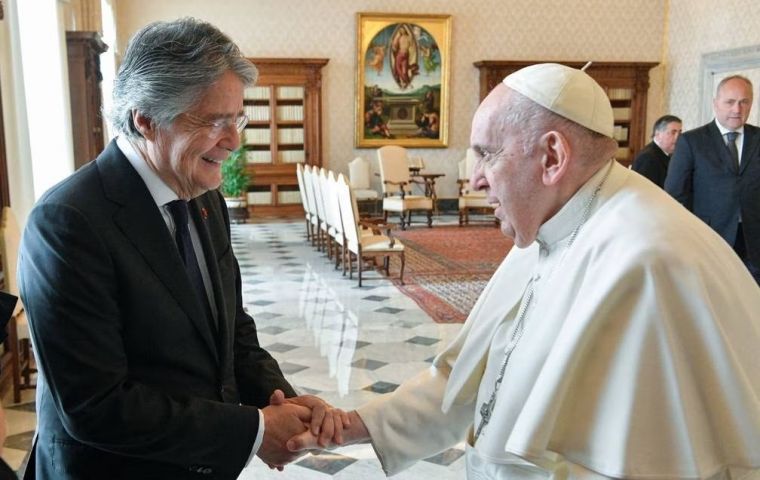 The Argentine-born Pope Francis welcomed Ecuadorian President Guillermo Lasso at the Vatican during the weekend to discuss indigenous issues and other matters concerning South America. Last week, the Catholic leader also held a meeting with Paraguay's Mario Abdo Benítez.
With no language barriers, Francis also reviewed with Lasso "the political and social situation of the region," according to a Vatican statement. During what was their first meeting, Lasso and the former Archbishop of Buenos Aires paid special "attention to efforts aimed at fostering development and promoting peace, focusing on some issues of common interest such as the defense of life, the care of children, the reform of the penitentiary system," the press release went on.
They also emphasized the need for "respect for indigenous populations and their culture, as well as the protection of the environment," the document also pointed out.
Lasso's meeting with Francis lasted 50 minutes, while that with Abdo had only spanned for 20 minutes, according to Vatican sources.
The president of Ecuador gave the Pope an alpaca scarf and a portrait of the Virgin of Guadalupe painted by a minor in detention "in his rehabilitation phase," Lasso explained.
Francis also called Sunday to pray for an end to the "acts of violence" in Peru, where nearly 50 people have been killed since the Dec. 7 failed coup d'état leading to President Pedro Castillo Terrones' impeachment and the subsequent accession to power of Dina Boluarte.
"I ask you to pray for the cessation of acts of violence in Peru," the pontiff said after his Angelus prayer in St. Peter's Square in Rome. "I join the Peruvian bishops in saying: 'No to violence, wherever it comes from, no more deaths," he stressed in Spanish.
"I encourage all the parties involved to embark on the path of dialogue between brothers of the same nation, in full respect for human rights and the rule of law," the Pope said.