Maduro not attending Celac summit after all
Tuesday, January 24th 2023 - 09:49 UTC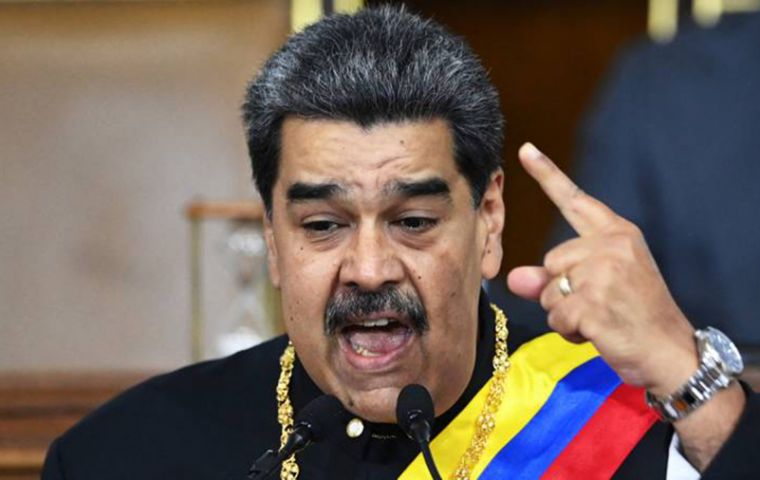 Venezuelan President Nicolás Maduro canceled his trip to Buenos Aires for the VII Summit of the Community of Latin American and Caribbean States (Celac). Upon announcing his decision, Maduro spoke of an "aggression plan" from the "neo-fascist right" which endangered his presence in the Argentine capital.
Read also: Bullrich asks DEA to arrest Maduro in Buenos Aires
"In the last few hours we have been informed, in an irrefutable manner, of a plan drawn up within the neo-fascist right, whose objective is to carry out a series of actions of aggression against our delegation headed by the President of the Republic, Nicolás Maduro Moros," the Venezuelan Foreign Ministry said in a statement.
"They intend to mount a deplorable 'show' in order to disrupt the positive effects of such an important regional meeting, and thus contribute to the already failed discrediting campaign undertaken against our country by the U.S. empire," the note added.
In this "extravagant" scenario, Venezuela's delegation will be headed by Foreign Minister Yván Gil Pinto.
Maduro had already announced he would be attending Luiz Inácio Lula Da Silva's Jan. 1 inauguration in Brasilia but stayed in Caracas.
The presence in Argentina of Maduro, together with Cuban President Miguel Díaz-Canel and Nicaragua's Daniel Ortega drew heavy criticism from the opposition PRO party.
Despite not attending the Summit, Maduro said he endorsed a proposal agreed upon by Lula and Argentine President Alberto Fernández toward the creation of a common currency between South America's two largest economies.
"I announce that Venezuela is ready and we support the initiative to create a Latin American and Caribbean currency. Independence, union, and liberation of Latin America and the Caribbean," Maduro said.
"I send a greeting of union and liberation to the peoples of Celac who are going to meet in Argentina," he added.