Argentina keeping an eye on Antarctica's new iceberg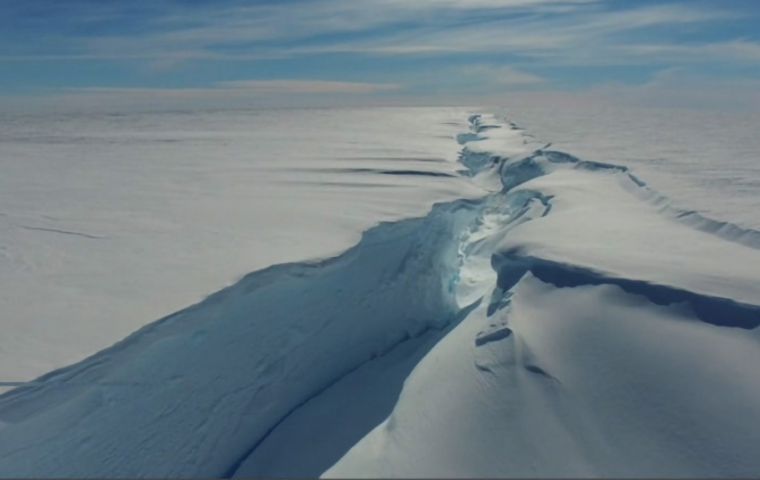 The Argentine Antarctic Institute (IAA) warned that the iceberg that calved off the Brunt Ice Shelf into the Wedell Sea is such a large structure that any vessel coming its way would have to take evasive action. Hence, it is being monitored to make sure it does not affect the icebreaker ARA Almirante Irízar's route from Ushuaia to the Argentine bases in the region.
On Monday and Tuesday, the agency was able to obtain the first clear satellite images of the ice floe taken by the Argentine satellite Saocom 1A of the National Commission of Space Activities (Conae):
"There are other images of the floe in circulation, but they are optical and have clouds. In contrast, this image taken by the Argentine radar-type satellite is sharper because the light is generated by the satellite itself, sends a radar signal, passes through the clouds, reaches the surface, and returns. The satellite can see through the clouds," IAA Glaciology Department head Sebastián Marinsek told Télam.
In his view, the ice floe poses a danger to circulation because it is a block 40 meters high, 40 kilometers wide, and 60 kilometers long that is in motion. "If a ship meets it head-on, it has to turn around or avoid it, that is the problem; it is a very large object of 1,500 square kilometers."
Marinsek said he was in contact with Captain Carlos Recio of the Irízar to keep him posted. "It is necessary to monitor when the icebreaker Irizar passes by that [the ice floe] is at a prudent distance," Marinsek explained while assuring that Argentina's Belgrano II Base, located 350 kilometers from the site, will not be affected.
"When the glacier is very large the icebergs that break off are also large. So, 1,500 square kilometers (surface of the detachment) against 14 million (Antarctica's surface) is a small portion."
Regarding the sea level, the expert said that there will be no great changes because "it was already floating before the detachment and continues to do so" and "whatever time it takes to melt, it is already in equilibrium with the sea".
According to the British Antarctic Survey (BAS), an agency that investigates the polar regions, the ice block broke off between 19 and 20 on Sunday, after a strong tide widened a crack that already existed in the ice shelf, which concurred with data recorded at the BELA seismographic station, belonging to the Argentine-Italian Antarctic Seismograph Network (Asain) operating at the Belgrano II Base.