Díaz-Canel visits Maduro on his way back home from Celac Summit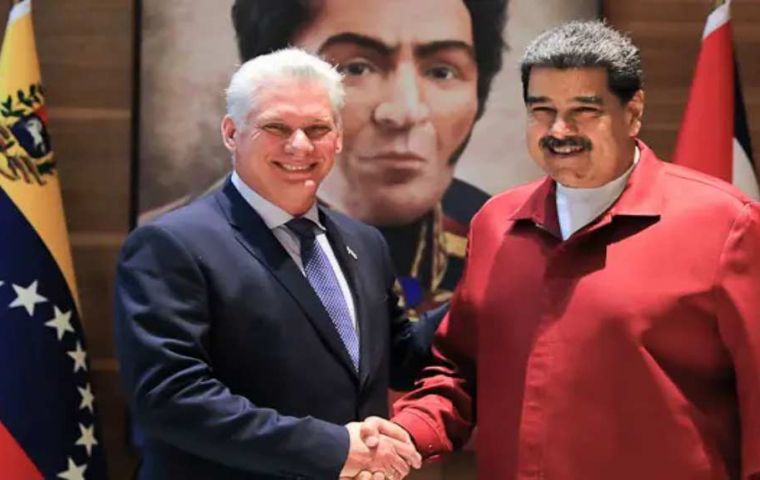 Cuban President Miguel Díaz-Canel Thursday said his meeting the day before with his Venezuelan colleague Nicolás Maduro was highly successful. Díaz-Canel made a stop on his way back from the VII Community of Latin American and Caribbean States (Celac) Summit in Buenos Aires.
Both leaders gathered at the Simón Bolívar (Maiquetía) International airport. Maduro had to cancel his participation at the regional event in Argentina after some local opposition politicians demanded his arrest. He is wanted by the United States Drug Enforcement Agency (DEA).
Both leaders hence reviewed the different mechanisms for the integration and unity of the countries of the region discussed at the Summit in Buenos Aires.
"It is always comforting to return to the Homeland of Bolivar and Chavez. With brother President Nicolás Maduro, I held a brief but very profitable working meeting for our bilateral relations and the deepening of the solidarity and cooperation ties that unite us," Díaz-Canel wrote on Twitter.
Also participating in the meeting alongside Díaz-Canel were Cuban Ministers Bruno Rodríguez (Foreign Affairs) and Rodrigo Malmierca-Díaz (Foreign Trade and Investment), and Cuban Ambassador to Venezuela Dagoberto Rodríguez.
The Venezuelan Foreign Ministry said on its website that both leaders "reaffirmed their commitment to defend a world of peace and cooperation, in favor of international solidarity."
According to Venezuelan state television, the meeting also aimed at "strengthening the cooperation agreements between both nations, in combat and resistance to the US sanctions that have affected both countries."
Bruno Rodríguez also said on Twitter that both leaders ratified the will to continue strengthening ties of brotherhood, solidarity, and cooperation between the two peoples and governments.
Díaz-Canel arrived back in Havana late on Wednesday, where he was welcomed by Vice President Salvador Valdés, Prime Minister Manuel Marrero, and the Secretary of Organization of the Communist Party of Cuba Roberto Morales.