Peru: Boluarte asks for multinational endorsement to early elections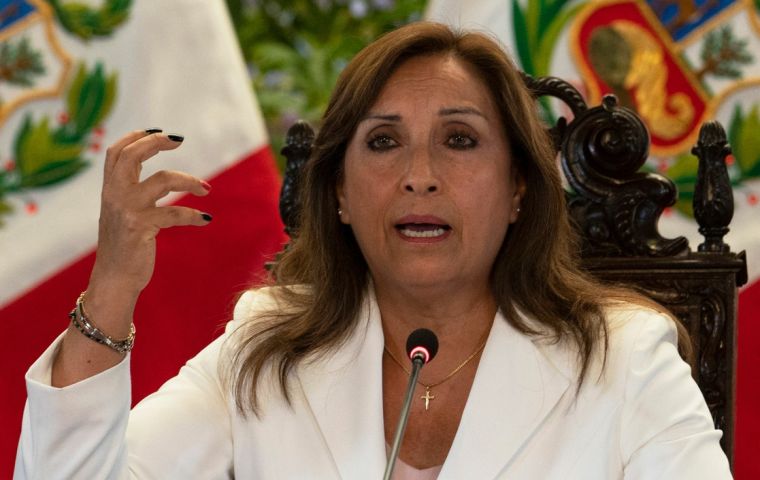 Peruvian President Dina Boluarte Wednesday asked the international community to endorse the holding of early elections in Peru, which she had already entrusted Congress with devising. She also said every possible solution should be within constitutional boundaries.
In a video appearance at the Organization of American States (OAS), Boluarte urged all "friendly countries" to support the proposal to bring forward the elections and achieve a "peaceful" solution to the current crisis which has left around 50 people dead. "Help Peru to set its destiny on track through free elections," Boluarte stressed.
Boluarte said that she has listened "with great attention" to the interventions of his colleagues at the Summit of the Community of Latin American and Caribbean States (Celac) in Buenos Aires and thanked the expressions of concern and solidarity with Peru. Then she asked: "What solution do you propose for the Peruvian crisis: violence or peace and democracy?
During the Celac summit, Peruvian Foreign Minister Ana Gervasi regretted that there were governments that "have not accompanied" Peru after former President Pedro Castillo's failed coup d'état.
Chilean President Gabriel Boric Font has said that Peru needs a "change of course" given the "unacceptable" violence while Mexico's Andrés Manuel López Obrador (AMLO), who did not attend the meeting in Buenos Aires, asked for a joint declaration against "repression" and for Castillo's freedom.
"And I sincerely hope that the friendly countries of the region support the only way out of the crisis," Boluarte said while insisting that such a solution should be "at the same time peaceful, constitutional and consistent with the tradition of the Organization of American States and the region." Boluarte also reviewed the events that unfolded after Dec. 7. and warned that she would not surrender to "authoritarian groups" that cannot impose solutions that are "outside the constitutional order."
Boluarte once again underlined her commitment to "give more than 33 million Peruvians the opportunity to decide their destiny" with the participation of all political and social forces, since "the stability of the country is at stake." She also insisted that her government defended the right to protest peacefully, but that the State "has to watch over security and order." In cases of abuse committed by the security forces, those responsible will be brought to justice, Boluarte promised.