Cartes and Velázquez have ties to Hezbollah, US gov't says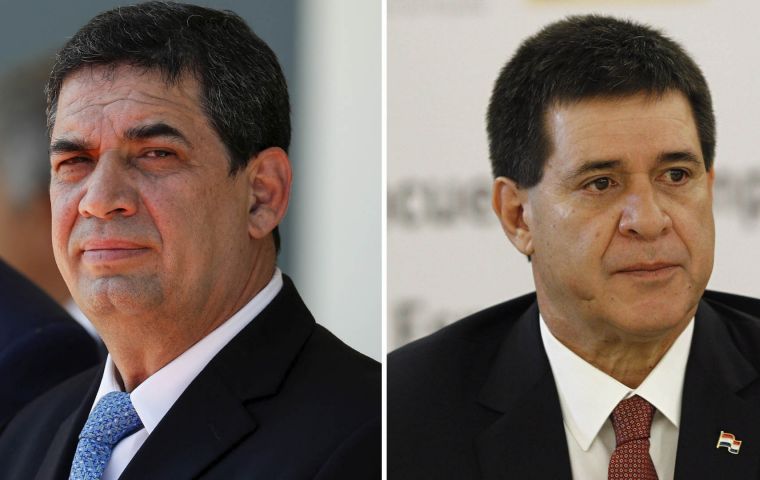 Former Paraguayan President Horacio Cartes and current Vice President Hugo Velázquez have ties to the terrorist group Hezbollah, US Ambassador to Asunción Marc Ostfield said Thursday during a press conference.
The US diplomat also announced financial sanctions against Cartes and Velázquez, who were both included last year in the list of most-corrupt officials.
"Mr. Cartes as well as Mr. Velázquez have links to members of Hezbollah, an entity that was designated by the United States as an entity that has committed acts of terrorism," Ostfield told reporters at the US Embassy.
"Hezbollah has regularly held private events in Paraguay, where politicians made deals for favors, sold state contracts, and discussed law enforcement efforts in exchange for bribes," he added.
The ambassador also said that representatives of Mr. Cartes and Mr. Velázquez collected bribes at those meetings. "Mr. Cartes participated in acts of corruption, before, during, and after his term in office. Mr. Cartes joined the Colorado Party in 2009, providing financial investments and incentives to convince the party to waive its membership duration requirements to allow him to run as a candidate," Ostfield explained. Cartes currently chairs the Colorado Party.
Read also: Cartes takes over as Paraguay's Colorado Party chairman
Ostfield insisted that Cartes paid party members to support his candidacy prior to the 2013 elections. "For the duration of his term as president of Paraguay, Mr. Cartes continued his corrupt schemes, including cash payments to officials in exchange for loyalty and support," the ambassador went on.
"Mr. Cartes maintained control over policymaking through monthly cash bribes paid to loyal legislators. These payments bought support for resolutions and votes in his interest. These actions have continued since he left office. Mr. Cartes ensured the effectiveness of this scheme by cutting off the flow of payments to legislators who did not do his bidding," the diplomat added.
The ambassador said Velázquez too was engaged in corrupt practices, such as selling his political influence to the highest bidder. "As vice president, he has worked to interfere with legal processes to protect himself and his criminal associates from investigations, including bribing, attempting to bribe, and threatening those who might expose his criminal activity," he asserted.
The US diplomat said that today's sanctions were based on credible and corroborated information from various US agencies. "Today, the United States imposes sanctions on Horacio Cartes and Hugo Velázquez for their participation in corruption schemes in Paraguay," the ambassador said.
Last year's designation as significantly corrupt means that they are both barred from entering the United States and cannot use their money in that country. Cartes and Velázquez are now blocked from using the U.S. financial system. In other words, the U.S. country imposed a complete ban against transfers or transactions of any kind with respect to their financial interests.
Four Cartes companies are now also blocked from accessing the US financial system: Tabacos USA, Bebidas USA, Dominicana Acquisition. and Frigorifico Chajha. "As of today, US law prohibits all US persons from engaging in financial transactions with Mr. Cartes and Mr. Velazquez and the named companies," Ostfield said.
Ostfield also pointed out that these measures "have nothing to do with politics or the current political situation in Paraguay," but rather represent the "US desire" to protect its financial system from corrupt actors. "These actions reflect the institutionality of our process, which means that it is a multidisciplinary process that involves many US agencies."
These decisions are open to appeal, Ostfield also explained. He added that his country maintains a good connection with the Paraguayan Prosecutor's Office and that they constantly work together on issues of mutual interest. Ostfield also warned that his country will continue to combat the use of public money for personal benefit, in close collaboration with the next Government, with the person that the Paraguayan people elect, whoever he or she may be. Hence, Paraguay and the United States remain "allies, friends, and partners."
He also said that the US still has a list of names that are liable to sanctions and designations.
(Source: Ultima Hora)