Cartes takes over as Paraguay's Colorado Party chairman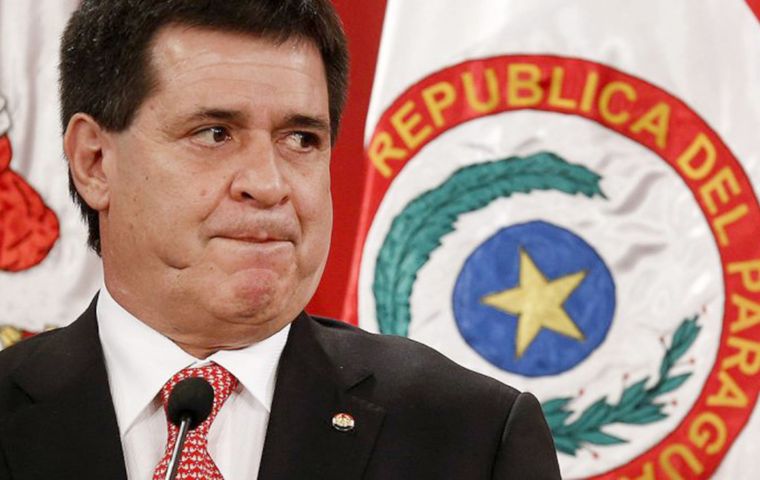 Former Paraguayan President Horacio Cartés was sworn in Tuesday afternoon as Chairman of the National Republican Association (ANR - also known as Colorado Party), replacing Congressman and Vice-Presidential hopeful Pedro Alliana.
Cartés, who last year was declared as "significantly corrupt" by the US government, has been voted by party members for a five-year term. His faction won the party primaries last month and will seek to get Santiago Peña elected president of Paraguay to succeed Mario Abdo Benítez, also of Colorado allegiance but from the opposite group. Cartés beat Abdo by 150,000 votes in the party leadership elections.
"I thank God first, and then my deep appreciation to my beloved Paraguayan people who took me to the presidency of the Republic and gave the return of the Colorado Party to the Lopez Palace. Serving the nation is the highest honor and responsibility that one can aspire to as a citizen," he said.
The new Colorado Party leader also called for sincere unity ahead of the April 30 general elections. "I will be the president of all Colorados who fight for a better Paraguay. Long live Paraguay! Long live the Colorado Party! Long live List 1!"″, he concluded.
"I proudly accept the responsibility of representing the National Republican Association in the general elections of next April 30. I do so by invoking all the weight of its tradition, history, and legacy that we have to honor the Paraguayan people. Our country needs more than ever a united Colorado Party. The flag of our beloved party is the flag of service," said Presidential candidate Santiago Peña.
"Let's forget the whims. I call for concord and not discord, to build and not to destroy, to fight and not to profit. This is our political proclamation and ethical slogan," Peña also pointed out.
Cartes won the ANR presidency with 607,077 votes against Abdo's 458,302 in the Dec. 18, 2022 primaries amid a permanent exchange of accusations. Cartes is now expected to heal the party's wounds ahead of the electoral challenge against the other political forces. Part of that healing began last week when Abdist candidate Arnoldo Wiens and Peña staged the symbolic "Republican embrace."
"Our immediate commitment is to work together for the triumph of List 1 on April 13," Cartes said Tuesday while pledging to be party chairman for "all the Colorados." He also announced that the party's next goals are to strengthen education and promote jobs for young people.