Cyanobacteria detected in Uruguayan and Argentine resorts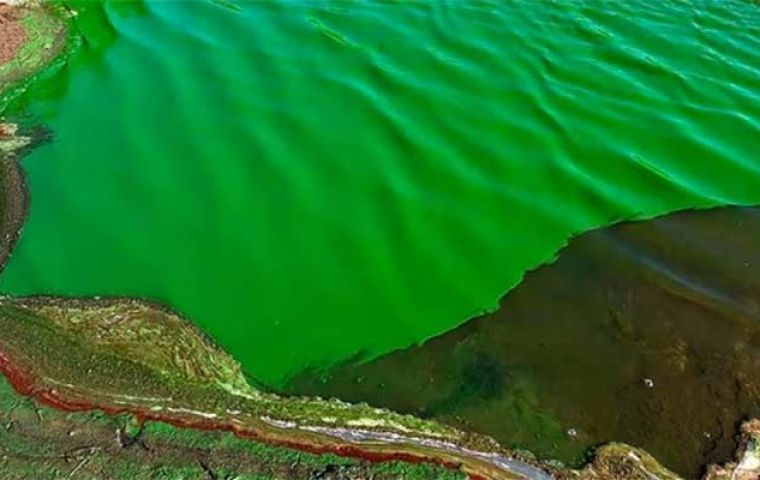 Uruguayan authorities detected once again the presence of cyanobacteria in the waters of the Queguay river (a tributary to the Uruguay River), east of Guichón, in the department (province) of Paysandú.
Guichón's City Council has issued a recommendation for residents not to bathe in the Queguay river, due to the appearance of cyanobacteria blooms near the Andrés Pérez Path and in the area known as Puente de Tablas and upstream.
Mayor Martín Álvarez said that this decision was taken as soon as he was told by park rangers of the appearance of the characteristic green color in the waters. The recommendation is to remain active pending laboratory tests entrusted to Departmental and Federal specialists.
The Guichón por los Bienes Naturales NGO said it was a failure on the part of the authorities to carry out the controls and monitoring to which they had committed while recalling that the same situation occurred a year ago. The group also contacted the National Institute of Agricultural Research (INIA), which last year conducted an analysis based on the samples submitted, which showed the presence of potentially toxic bacteria in the water.
On the Argentine side, cyanobacteria were also detected at some venues along the Buenos Aires provincial shores. The Undersecretariat of Water Resources of the province of Buenos Aires, through the Interinstitutional Bureau of Cyanobacteria, issued an orange alert for the presence of cyanobacteria in bathing resorts of the River Plate and lagoons of Buenos Aires.
An orange alert represents a medium risk in which the water looks bright green on the surface and sand. "Cyanobacteria accumulate in the water column or on the surface, but not in a continuous layer," it was explained.
Bathers were advised to stay away from green spots, wash with clean water in case of entering the river or lagoon, not consume food coming from natural water flows, and pay special attention to children and pets.
The most affected resorts were around Ensenada, Berisso, and Río Santiago in the La Plata area, in addition to other parts in the Paraná River delta. The Orange alert was also issued in the Laguna de Gómez (Lincoln Bridge) located in the district of Junín; Laguna de Lobos, in that district; as well as in the Laguna Chis Chis, La Tablilla and Barrancas, all water bodies belonging to the Salado river basin.
Cyanobacteria are organisms that generally live in water, they have a blue-green color, some of which may be harmful to humans.