Lake Titicaca downspout reaching historical levels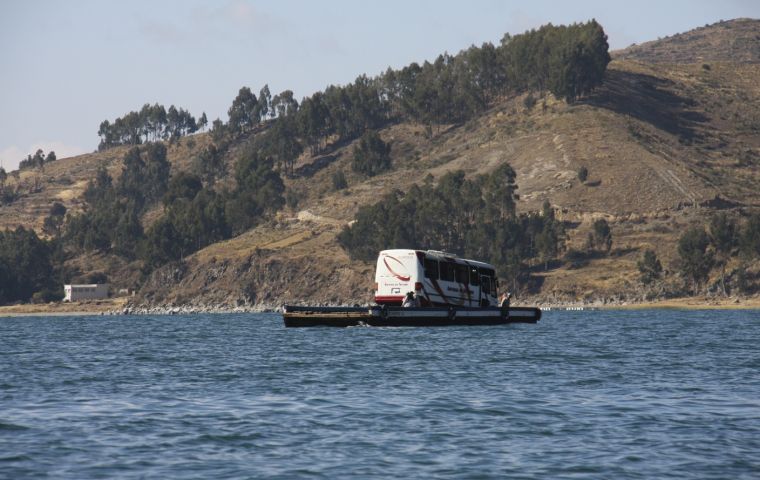 Bolivian authorities Tuesday reported that due to poor rainfalls, the water levels of Lake Titicaca, on the border with Peru in the middle of the Andes, had dropped 97 centimeters.
National Service of Meteorology and Hydrology (Senamhi) forecaster Ana Luz Mendoza told Xinhua that there has been concern among residents living in neighboring communities in the highlands of La Paz due to the drop in water level of almost one meter in Titicaca. She also predicted that this dynamic will continue if the absence of rainfall in these populations is maintained.
She also admitted that this drop in the level of the shared lake has rarely been experienced. Images broadcast on Tuesday by the private channel Unitel showed the drop in water level in Titicaca, where port docks, which were usually used to board boats, became unusable due to the low water level.
Lake Titicaca, shared by Bolivia and Peru and considered the highest navigable lake in the world at almost 4,000 meters above sea level, is going through a drought affecting several Bolivian regions and threatening its unique cultural, animal, and plant wealth, Xinhua also reported.
"Lake Titicaca is being affected in the level of its waters by global warming and climate change due to a scarce contribution of rainfall directly from the main tributary rivers and the evaporation of its waters," Mendoza explained.
The expert also pointed out that the downspout directly affects the aquatic fauna, birds, and human populations settled around this lake.
Peru's National Meteorological and Hydrological Service reported on Monday that, so far in January 2023, the main rivers of the Titicaca hydrographic region have been showing anomalies in their flows, due to rainfall deficits during the October-December 2022 and January 2023 quarters. These flow deficiencies are causing a decrease in the water levels of Lake Titicaca corresponding to 0.524 meters, from September 1, 2022, to January 30, 2023.
On the other hand, these anomalies presented during January 2023, when compared to the 1981-2022 period, are among the most extreme ones, similar to those presented in 1990, 1999, 2002, 2005, 2009, 2011, and 2016 in the Titicaca hydrographic region.
(Source: Xinhua)