Uruguay: Drought losses estimated at USD 1.200 million, Minister says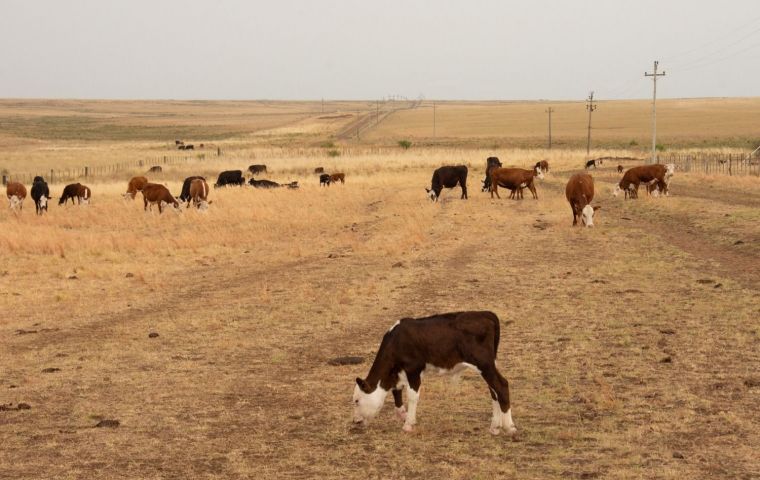 Uruguay's Minister of Livestock, Agriculture, and Fishing, Fernando Mattos, appeared before the Permanent Commission of Parliament at the request of the opposition Frente Amplio (Broad Front) to explain the measures taken by the government in response to the drought that has affected the country since last year.
Mattos stated that the measures implemented by the Executive Branch so far are just the beginning and that more structural measures are needed for water, both for production and human consumption.
Read also: Agricultural emergency, triggered by drought, extended for another 90 days in Uruguay
The State official estimated the losses due to drought to be around 1.175 million USD, with the agricultural sector being the most affected with losses of 490 million USD, followed by the livestock sector with losses of 440 million USD. The loss in pastureland is estimated to be 145 million USD and the dairy sector is estimated to have a loss of 100 million USD.
Measures
The minister also reviewed the measures that the Executive Branch has been implementing in response to the drought affecting the country. Among them, he highlighted the authorization of grazing along the sides of roads, cleaning of ditches and water sources by the ministry, reduced-rate loans from the Uruguayan Central Bank. In this sense, Mattos indicated that there are over a thousand applicants for the loan and that 400 microloans have already been signed.
He also mentioned the deferral of payment of rural contribution and BPS (Social Security Bank) contributions, and exemption or deferral of municipal taxes.
On the other hand, he expressed that the ministry is available to the local governments to purchase rations or machinery for work on affected fields.
In turn, Mattos highlighted the loans from the National Development Agency. It is estimated that it will reach 600 producers for almost 9 million USD.