At least 13 killed in Chile's wildfires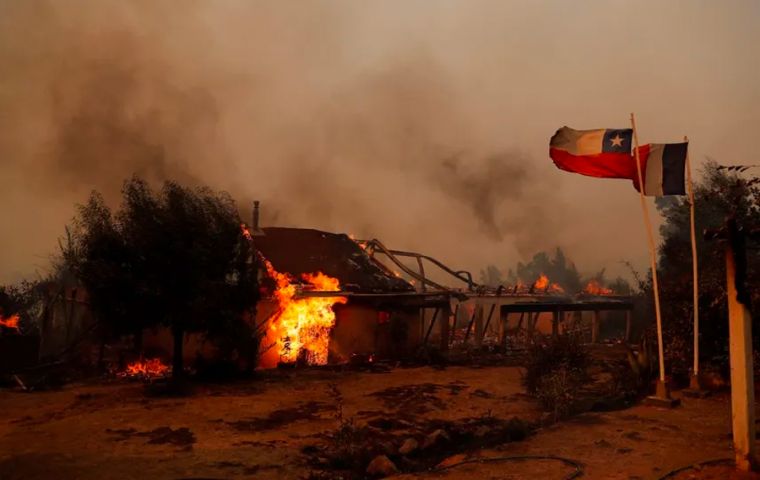 Chilean authorities Friday reported at least 13 people lost their lives amid the raging wildfire that is hitting several parts of the South American country. Two people died when a firefighting helicopter crashed during a mission and 11 others in Santa Juana.
"Unfortunately, we would like to point out that there are 13 deaths in total: 11 people in the commune of Santa Juana (in Biobío) and, in addition, a Bolivian pilot and a Chilean mechanic who crashed in a helicopter that was working to fight these fires," National Service for Disaster Prevention and Response Deputy Director Mauricio Tapia told reporters.
Agriculture Minister Esteban Valenzuela explained that the accident took place in the commune of Galvarino, in the region of La Araucanía, 700 kilometers south of Santiago. He also said that the Bolivian pilot had "many years of experience in aeronautics and firefighting."
"There is a swarm of fires, more than 50 between La Araucanía, Biobío, and Ñuble, and the smoke screens are very important," he added.
The other eleven victims died this Friday in the commune of Santa Juana, in the Biobío region, 550 kilometers south of Santiago.
Tapia also reported 22 people had suffered burns, eight of them severe, while 95 houses had been destroyed by the 191 still active fires in the central-south zone of Chile, devastating more than 40,000 hectares. Of the 191 active fires, 45 are still out of control, it was reported.
According to the Public Prosecutor's Office, four people lost their lives in two traffic accidents trying to flee flames while a firefighter suffered a heart attack. The rest were found burned.
The regions of Biobío, Ñuble and La Araucanía are the most affected by fires that have already destroyed more than 45,000 hectares and a hundred homes and have caused the evacuation of dozens of municipalities. Southern Chile is going through an unprecedented heat wave with temperatures of up to 40 degrees Celsius.
Chilean President Gabriel Boric, who suspended his vacation in Patagonia on Friday to travel to the areas affected by the fires, said there were "indications" that some of the fires were caused by "unauthorized burning."
"There is no authorization to burn garbage or waste or anything else," Boric said while admitting that the situation was "complex."
"It is much easier to prevent a fire than to fight it", he stressed.
"We will be patrolling the entire area. The most important thing now is to put out the fires. The State is deployed for that," said Boric. "We are not going to leave them alone," he insisted.
"The Armed Forces and the Carabineros will be patrolling and carrying out preventive patrols throughout the area," he also pointed out. Some 75 aircraft and around 2,300 firefighters have been deployed.
The Government declared a State of Constitutional Emergency in Biobío and Ñuble, which allows the Government to deliver aid to those affected more expeditiously and to mobilize resources in these two regions of intense agricultural and forestry activity.