Chile's wildfires death toll reaches 24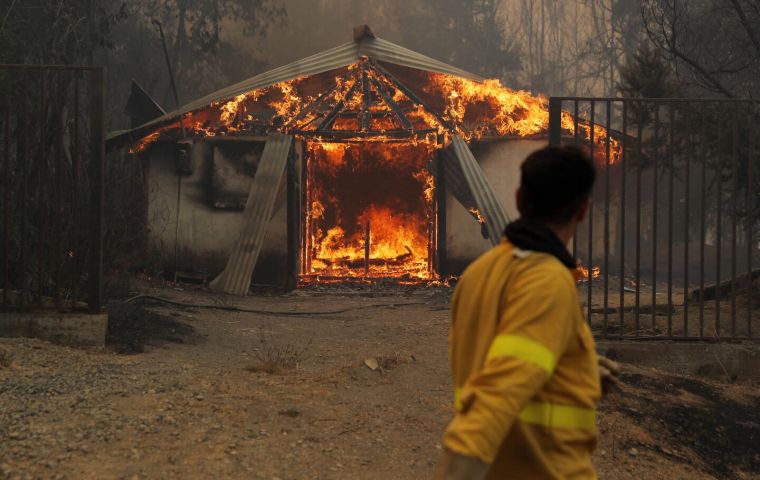 Chilean authorities spoke Sunday of 24 fatalities, nearly 1,000 people injured, and some 800 houses destroyed in the past five days by wildfires spreading fast in amid a highly-irregular heat wave with strong winds and temperatures above 40°C in areas 500 km south of Santiago.
The death toll reached 24 after the death of one of the injured people who had been hospitalized in Angol, Undersecretary of the Interior Manuel Monsalve explained. "The risk situation in the country remains" in the regions of Ñuble, Biobío, and La Araucanía, and in certain localities of the central region of Maule, he said. A red alert was also decreed Sunday in communes of the southern regions of Los Ríos and Los Lagos due to the appearance of new fire outbreaks. He also pointed out that 26 of the 997 people injured were in serious condition.
"I came home from work and I was already without anything, without a house. I was left on the street, with my arms crossed, now with my son, and my wife, in a tent. I have no fodder for my animals," a resident of the town of Purén, in the Araucanía region, told Televisión Nacional de Chile (TVN).
Meanwhile, President Gabriel Boric Font attended the wake of a firefighter in the town of Coronel. "Chile is crying with you. I am here to tell you that you are not alone, that the family of Yesenia (Muñoz, the deceased firefighter) will not be alone," he said.
According to Chile's National Service for Disaster Prevention and Response (Senapred), the number of fires being fought went down from 87 to 51. "We are experiencing a small window of improving weather conditions during Sunday and Monday. That means that we are not with extremely high temperatures," Monsalve said.
Undersecretary Monsalve also told reporters that 10 people have been arrested for their responsibility in starting some of the fires for which the red alert was still maintained. Of the total number of fires, 22 occurred Sunday for a total of 283 active fires, of which 151 were under control and 71 are being fought.
Given the magnitude of the fires in size and number, international help has been summoned. "We have just sent a plane to Chile with a contingent of the Military Emergency Unit to collaborate in extinguishing and controlling the fires that are raging in the country. All our support to the Chilean people," tweeted Spanish Prime Minister Pedro Sánchez.
Chile's Foreign Ministry also said assistance was being coordinated with Argentina, Brazil, Ecuador, the United States, and Mexico, while Boric's administration has declared a constitutional state of catastrophe in the regions of Ñuble, Biobío and La Araucanía, to speed up additional resources while restricting free transit and involving military forces to contain the disaster.
In 2017, another chain of fires destroyed some 460,000 hectares, left 11 people dead, nearly 6,000 injured, and more than 1,500 homes burned.
Monsalve also warned that this week high temperatures will continue, as well as the risk of low humidity and strong gusts of wind, which will make it difficult to extinguish the flames.