South American bid to host 2030 World Cup launched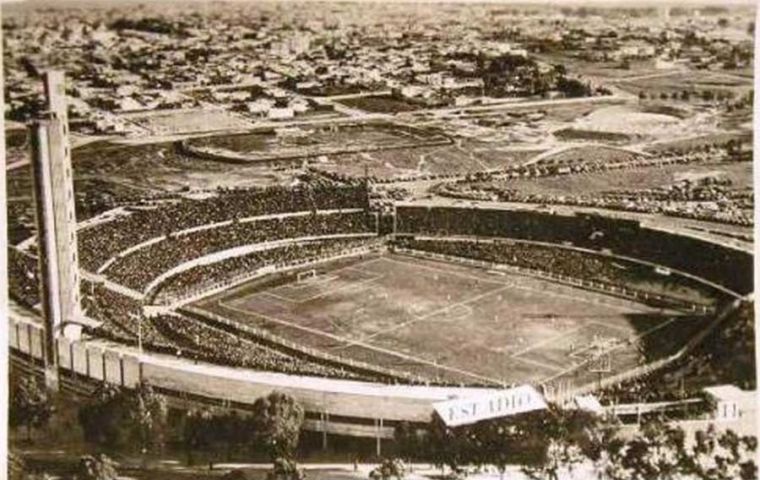 Uruguay, Argentina, Paraguay, and Chile have officially launched their bid to co-host the 2030 football World Cup finals. During an event at the Argentine Football Association's training camp in Ezeiza, on the outskirts of Buenos Aires, dignitaries from all four countries made the announcement.
"FIFA has to come to celebrate the World Cup where football was born and that was in 1930 when few countries dared to do it," said Uruguay's Sports Secretary Sebastián Bauzá. "In 1930, the Centenario Stadium was built in nine months, in other times, made by immigrants, but now Uruguay joins this challenge to make a big celebration," he added.
"Football has to return to its essence. World football has to settle that debt and that 100 years is a good measure that everything goes back to where it started. Investments will have to be made, but it is an opportunity for regional integration, all that investment remains as part of the legacy. These are high-impact events, they generate jobs, so it is a huge opportunity," Argentina's Minister of Tourism and Sports Matías Lammens concurred.
The 2030 World Cup final would be played at the Centenario stadium, it was also explained.
"The 2030 World Cup is not just one more, it deserves a celebration with recognition for the 100 years (of the first edition held in Uruguay)," argued the Paraguayan Alejandro Domínguez, president of Conmebol. "We are convinced and FIFA should honor the memory of those who came before us and believed in greatness and made the first World Cup," Dominguez insisted.
The venue for the 2030 World Cup will be announced at the 74th FIFA Congress in 2024, two years before the 2026 finals to be co-hosted by the United States, Mexico, and Canada.
The idea of a joint bid for the 2030 World Cup initially came from Uruguay and Argentina, who were the finalists of the first FIFA Cup held in 1930 in Montevideo.
Uruguay were the first world champions, with a 4-2 victory over Argentina in the final at the then brand-new Centenario stadium. Argentina is the title holder since Qatar 2022.
Meanwhile, Argentine President Alberto Fernández suggested on Twitter that Bolivia should be added to the bid. "This candidacy belongs to the whole continent. Therefore, I would like and I am going to propose that our brother country Bolivia be part of this dream," he wrote.
Contending with the four South American bidders will be:
1. Spain, Portugal, and Ukraine.
2. Saudi Arabia, Egypt, and Greece.
3. Morocco.