Argentina agro-industry exports expected to drop some 28% this year because of the drought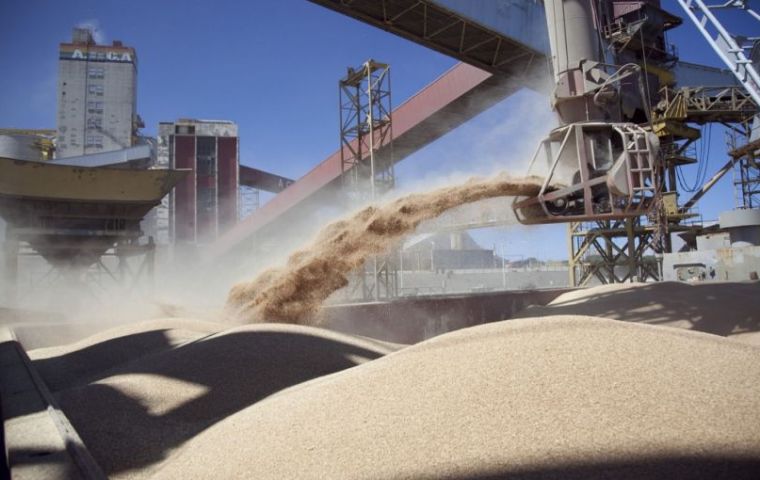 Argentine agro-industrial exports are expected to climb to some US$ 47 billion this year, which is 28% less than in 2022 mainly because of the drought and lack of rains punishing most of the country's territory. The report is from the Argentine Agriculture for Development Foundation, FADA, based on lesser export estimates of grains, beef, and dairy produce.
"Less exports means less hard currency (US dollars) and less tax revenue from export levies. It is estimated that 97% of these funds come mostly from the agro industrial exports, cereals and oilseeds make 91% of the total, followed by different meats, 3,6%, regional economies, 1.8% dairy, 1% and the rest 2,6%, points out the report.
Likewise 67% of Argentine exports come from agriculture and Argentina is the world's leading exported of flour, soy-oil, other oils and lemon juice, beans and peanuts, said FADA recalling that last year the country reached US$ 60 billion in agriculture exports, 8,5% higher than in 2021. The areas with the increased performance and exports included barley, sun flower, wheat, poultry, dairy, mate infusion and different meat cuts.
The trade surplus last year was US$ 7 billion, 53% less than in 2021, mainly because the increase in imports. Similarly while most activities had a negative performance, only three were positive, agriculture, mining and transport, but the mining surplus was just over a billion dollars and transport, US$ 373 million, agriculture was by far the most productive with the US$ 49 billion, indicates FADA.
The report also details production in the different agro-industry sectors, with overall 54% going for domestic consumption and 46% overseas. When it comes to pork 99% is consumed locally and 1% is exported; with poultry, 90% remains in Argentina and only 10% is sold overseas; with beef, it's 71% domestic demand and 29% exported, while with ovine meat, the percentages are 63% and 37%.
FADA estimates that if 46% of Argentine production is exported, it means millions of households consume Argentine produce daily, all over he world
FADA finally recalls that Argentina reaches 155 countries, some 80% of world nations, with Brazil leading with rice, dairy, legumes, fruit and wheat; China, beef, poultry and barley; India (sunflower and soy); US (lemons, wine, tea and forestry); Vietnam, corn; Netherlands, peanuts; Syria, mate infusion; Spain, fisheries and Germany, wool. Overall on average the agro-industrial exports are mostly absorbed by the five leading trade partners concludes FADA