Falklands Environment Strategy: First Progress Report available online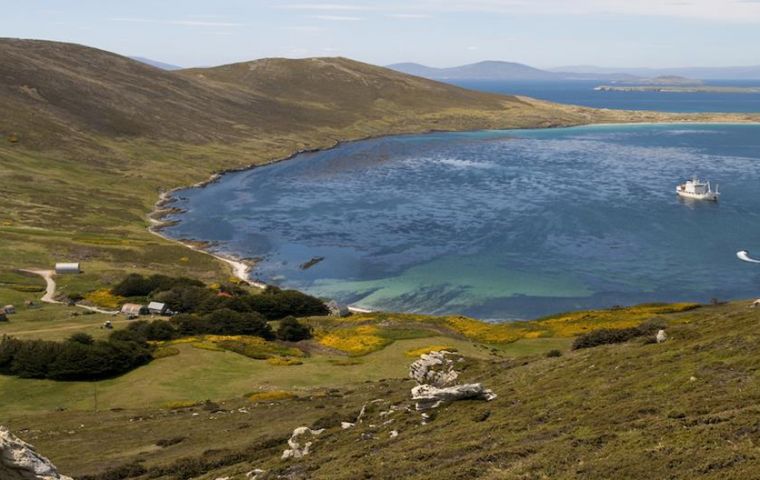 Following the adoption of the Falkland Islands Environment Strategy 2021 – 2040 by the Executive Council in late 2021, there has been much work across government towards achieving the Vision of the Strategy. The first progress report for 2022 has been released and is available on the FIG Environment Department website.
One of the highlights from the report is that the Environmental Studies Budget grew along with the number of projects submitted and then funded. Projects have expanded beyond research organizations to include individuals from across the community working on a diversity of projects; from the Falkland Islands Community School projects on earwig control and 3D printing of recycled plastic, farmers eradicating invasive species and a survey of all FIG-owned Islands to understand the status of their biodiversity. Another is that risks from climate change have been assessed for the Falkland Islands, with input of specialists and the community. The results of which are informing how we will adapt to growing threats and where to focus our efforts.
Falkland Islands Environment Strategy 2021-2040 by MercoPress on Scribd
Policy development is underway in key areas, such as pollution control and improving protections for wildlife and special areas. Key recommendations from the fin-fish review have been implemented and a solar renewable energy trial has obtained planning and ExCo approval to go ahead on the Common at the Sand Bay site.
MLA Pete Biggs said, "I am proud to see the volume and breadth of work that those across government are doing to achieve the 2040 Vision of a bio-diverse, healthy and adapted natural environment for all, as we celebrate the publication of the first progress report. 2022 and the start of 2023 has been an excellent period of progress not only with the strategy, but also with our ambitions regarding the Environment in the Islands' Plan. I look forward to seeing the many areas of work continue to grow over the coming years. While this report sums up some of the work that the government is doing, I know that there are many across our community who are doing important work towards the Vision of the strategy and I'd also like to applaud and encourage them for their hard work."
Environment Strategy Progress Report 2022 by MercoPress on Scribd