"Tight money ahead for months to come", anticipates the UD Fed unpleased with inflation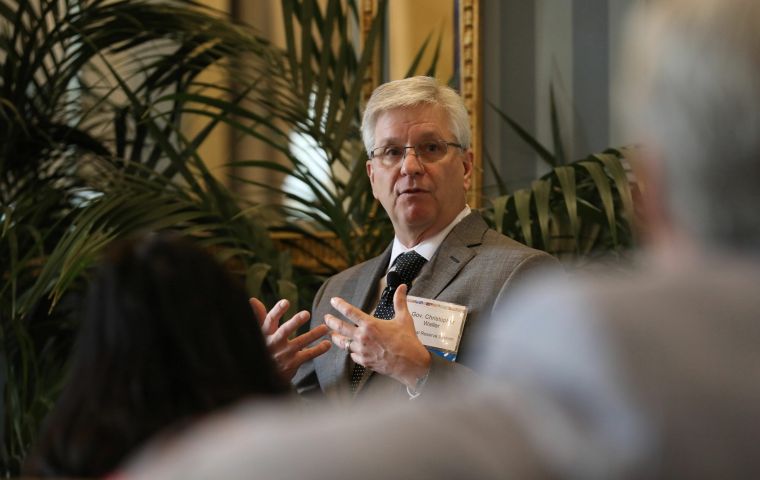 The United States Federal Reserve is not satisfied with the evolution of inflation in the country and has warned the fight is not over, and could possibly result in higher interest rates that those markets are anticipating and despite of growing fears they could lead to a recession.
Fed Reserve Governor Christopher Waller speaking to an agribusiness conference in Arkansas, said the January jobs report, showing nonfarm payroll growth of 517,000, indicated that the employment market is "robust" and could fuel consumer spending that would maintain upward pressure on inflation.
Consequently, Waller said the Fed needs to maintain its current plan of action, which has seen eight interest rate hikes since March 2022.
"We are seeing that effort begin to pay off, but we have farther to go," Waller told the Arkansas State University Agribusiness Conference in prepared remarks. "And, it might be a long fight, with interest rates higher for longer than some are currently expecting. But the Fed will not hesitate to do what is needed to get my job done."
The comments come a week after the rate-setting Federal Open Market Committee approved a quarter percentage point increase that took the benchmark borrowing rate to a target range of 4.5%-4.7%, the highest since October 2007.
Markets have been taking some encouragement off recent remarks from Fed Chairman Jerome Powell, who has said that he is seeing disinflationary signs. Inflation in the US hit a 41-year peak last boreal summer, forcing the Fed off its insistence that the price increases were "transitory" and into the current tightening posture.
But Waller said he sees inflation still too high while he expects just moderate economic growth this year. He did note that wage data is "moving in the right direction," but not enough for the Fed to lower rates.
"Some believe that inflation will come down quite quickly this year," he said. "That would be a welcome outcome. But I'm not seeing signals of this quick decline in the economic data, and I am prepared for a longer fight to get inflation down to our target."
Waller was a nominee to the Fed by Trump and was an executive vice president and the director of research at the Federal Reserve Bank of St. Louis from June 2009 through December 2020.
From that position he helped make the research division's reputation as a world-class research organization and helped make the St. Louis Fed's Federal Reserve Economic Data (FRED) and Economic Education Program internationally recognized resources.
Prior to joining the St. Louis Fed, Waller served as a professor and the Gilbert F. Schaefer Chair of Economics at the University of Notre Dame.