Significant drop in prices China is prepared to pay for beef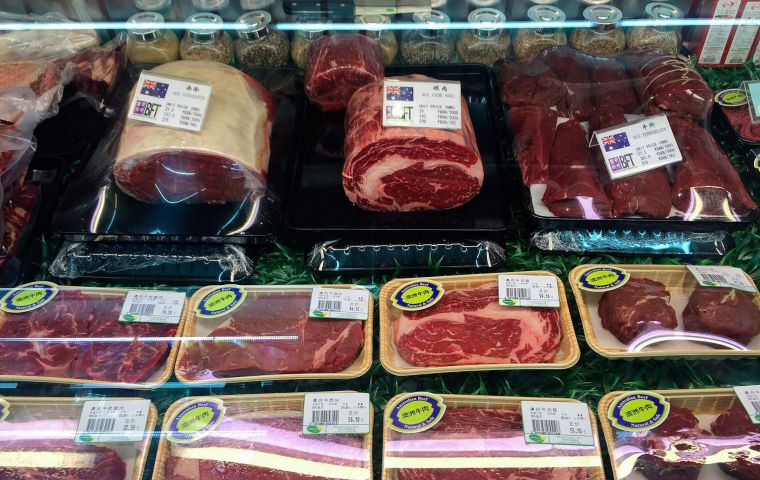 China purchased much more beef in January than in the same month of 2022, but paid much less. In effect during most of the second half of 2022, China was prepared to pay up to US$ 6,200a ton of prime beef protein, but since last month it dropped drastically to US$ 4,800 the ton, forcing a renegotiation of volumes and having an impact on the overall industry.
As a result, overall export sales grew by just 7%, against volumes 17% above, at US$ 851.2 million and 183.800 tons of fresh and processed product.
Chinese importers accounted for 57% (100.1 thousand/t) of total revenues last month. In the previous January, the representativeness was 41.3% (53.1 thousand/t).
Translated by ton price in the average of all markets served by Brazilian abattoirs, according to Secex data worked by Abrifrigo, in the first month of the previous year the amount paid was US$ 5,069, falling almost 9% now, to US$ 4,630 .
In related news beef exports from Uruguay during January totaled US$ 131 million, 39% below what was registered in January 2022. The drop is partially due to the 55% decrease in purchases from China compared to the previous year, from US$ 150 million in January 2022 to US$ 67 million in January 2023.
However, the Chinese market remains the most important destination for Uruguayan beef, absorbing 51% of total beef exports. Exports to other destinations add up to US$ 64 million and fell to a lesser extent, 2% in the annual comparison, pointed out the INAC report.
Exports of meat derivatives totaled US$ 29 million in January 2023, registering a negative annual variation of 32%. These represented 3% of the total exported in the month.